Haftar gives 72 hours to the Libyan unity government forces to withdraw from Tripoli and Sirte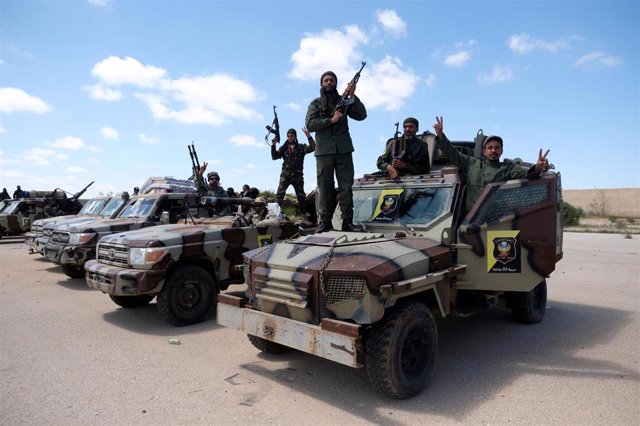 Fighters of General Jalifa Haftar's forces before moving towards Tripoli – REUTERS / ESAM AL-FETORI – Archive
MADRID, Dec. 20 (EUROPE PRESS) –
The forces of Field Marshal Jalifa Haftar, loyal to the authorities settled in eastern Libya, have given this Friday a period of 72 hours to the unit government forces to withdraw from the capital, Tripoli, and the city of Sirte.
The spokesman for the Libyan National Army (LNA), Ahmed al Mismari, stressed that the bombings against the positions of forces loyal to Tripoli will continue if they do not withdraw.
"We will not attack any force that leaves Tripoli and Sirte (…) before the deadline," he said, as reported by the Saudi television network Al Arabiya.
According to the local newspaper 'The Libya Observer', the clashes have been renewed early in the day on several front lines around the capital, with no information on victims.
In Libya, there are currently two parallel governments, one based in Tripoli and recognized by the international community, and another based in the east of the country, backed by countries such as Egypt and the United Arab Emirates (UAE).
Haftar announced last week the start of the "final battle" and "zero hour" for Tripoli and ordered its forces to move towards the city. In response, Serraj said that "the only zero here is that of his delusions." "Zero control, zero assaults on Tripoli or its surroundings," he settled.
The field marshal launched his offensive in April, during a visit to the country of the UN secretary general, António Guterres, and ten days before the start of a national conference that was at the center of the peace process promoted by the special envoy of the international organization for Libya, Ghasán Salamé.
Since then, the UN Security Council has failed to agree on any statement or resolution on the campaign, which has resulted so far with hundreds of civilians killed and injured and more than 120,000 displaced.