Haftar announces a ceasefire in western Libya from midnight from Saturday to Sunday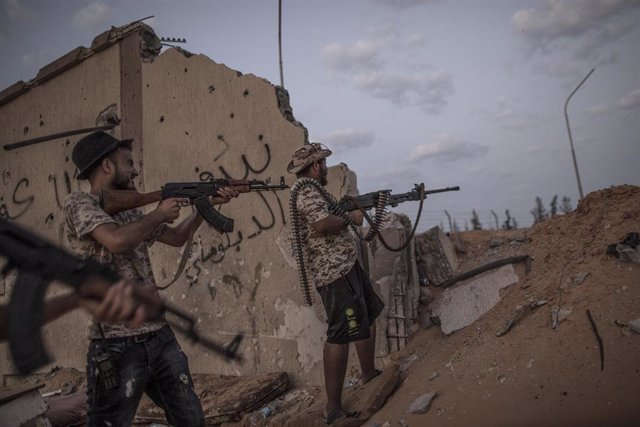 Militiamen who support the Libyan government in front of Haftar forces – Amru Salahuddien / dpa – Archive
MADRID, Jan. 11 (EUROPE PRESS) –
The Libyan National Army (ENL) of the 'lord of war' Jalifa Haftar has announced a ceasefire in his offensive against Tripoli from midnight Saturday to Sunday according to the request of Russia and Turkey.
"The high command of the ENL announces the ceasefire in the west of the country from 0.00 local time on January 12. The other party must also respect the truce," said the ENL through a spokesman, Ahmed to Mismari.
The text warns that "in case of a violation (of the truce) a severe response will be given," according to Al Mismari, cited in a statement collected by the Russian news agency Sputnik.
On January 8, the presidents of Russia and Turkey, Vladimir Putin and Recep Tayyip Erdogan, asked in a joint declaration to establish a ceasefire throughout Libya from January 12.
Haftar launched its offensive in April 2019, during a visit to the country of the UN Secretary General, António Guterres, and ten days before the start of a national conference that was at the center of the peace process promoted by Salamé.
He also announced in mid-December the beginning of the "final battle" and the "zero hour" for Tripoli and ordered his forces to move towards the city. In this context, Haftar forces took the city of Sirte by surprise on Monday, in a severe blow to the unity government.
That is why, in recent days, both UNSMIL and the European Union have voiced alarm at the escalation of the conflict in which the country has been plunged since the death of the satrap Muammar Gaddafi in 2011 and the war against the Islamic State .
Since the beginning of hostilities, the UN Security Council has failed to agree on any statement or resolution on the campaign, which has resulted in hundreds of civilians killed and injured and more than 120,000 displaced.