Gwyn Williams and Graham Rix: Ex-Chelsea coaches face new racism claims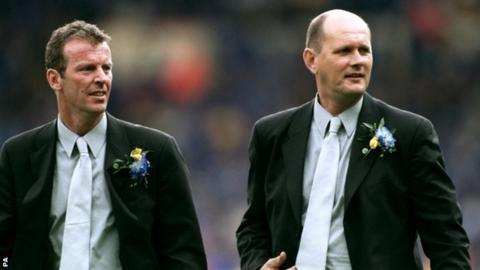 Former Chelsea coaches Gwyn Williams and Graham Rix face new allegations of racially abusing young players in the 1970s, 80s and 90s, with one saying they made his life "hell".
Seven former Chelsea players have now accused Williams or Rix of historical abuse, following previous claims made by three players in January.
Williams and Rix deny "all and any allegations of racial or other abuse".
Chelsea said they are taking the allegations "extremely seriously".
The club added: "The allegations will be fully investigated. We are absolutely determined to do the right thing, to assist the authorities and any investigations they may carry out, and to fully support those affected which would include counselling for any former player that may need it."
One lawyer suggested more racial abuse claims could follow across football.
The BBC has spoken to four black players, one of whom alleged that he was subjected to an "exhaustive list" of racial slurs, while another was allegedly racially abused by Williams when he asked why he was dropped from the youth team.
Another described the club as "institutionally racist" at the time the incidents were alleged to have occurred.
Their claims have also been supported by two white witnesses, former players Gary Baker and Grant Lunn.
Baker, who played for the Chelsea youth team from 1981 to 1985, said that "to have Gwyn totally deny the things that were said was just totally wrong".
He told BBC Sport: "My own beliefs are that somebody should be accountable and answerable to the things that were said."
All four players said that their football careers and personal lives had been affected by the abuse they suffered and an inability to report it.
One said: "The behaviour was appalling but the players had no way of challenging this behaviour which made it even worse."
Former England and Arsenal midfielder Rix, 60, joined the Stamford Bridge club in 1993 and left in 2000, a year after being jailed for having sex with an underage girl.
Williams, 68, joined Chelsea in 1979 as youth development officer and worked as assistant manager under former boss Claudio Ranieri before leaving the club in 2006.
He joined Leeds as technical director in the same year but was dismissed in 2013 after sending an "obscene" email containing pornographic images to work colleagues.
'It feels like it's hell you're going to'
One player told the BBC that Williams allegedly used racial slurs in a "comfortable manner like he had done it before" while Rix was more "psychological" and "chipped away" at players.
He also felt some of the racially-offensive terms were used to cause "conflict" in the dressing room and pandered to typecasts of black people.
"You are written off before you even open your mouth," he said. "That kind of thing was engineered because it causes conflict between youths and other youths, black against white."
He added: "There is no way of buttering it up, it's like hell because of what it was doing psychologically. You feel like you are the only one at the time, it goes against the natural essence of the environment.
"Yes, you want to become something, but as a club you feel like it's hell you're going to."
'Club felt institutionally racist'
Another player said he feared going to the training ground, and believed race "had a part to play" in him being released by the club.
"In terms of the club being institutionally racist at the time, I would say upon reflection, yes," the former youth team player alleged.
"I would say that this behaviour was obviously filtered down from above. It was accepted and there was no challenge to this type of behaviour.
"However, I have to echo that people wouldn't have reported this because they had no faith and there was no pathway to [reporting it]. The behaviour was appalling but the players had no way of challenging this behaviour which made it even worse.
"It was quite common language, but you were in a predominantly-white environment. The changing room was very white, the senior members of staff, the senior players, the management, they were all Caucasian, so who were you going to report a racial incident to?"
A separate player described how he was "shocked" after allegedly being subjected to a racially-offensive term by Williams when he asked why he had been dropped.
"I felt humiliated, which I did every time he racially abused me," he said. "I felt degraded, belittled. It was just something which no child in any walk of life should be subjected to, especially by someone who is meant to be in charge."
'It destroyed my life'
The same player said the abuse he suffered had "affected every aspect" of his life.
"I have suffered with depression, I get really bad mood swings, it's affected previous relationships, previous employment. It destroyed me as a person, it destroyed my life."
Lawyer Renu Daly, a specialist in supporting victims of abuse at Hudgell Solicitors, said she thought the claims could be the tip of the iceberg across football.
"I do believe there will be further claims coming forward and I think they should come forward because I don't think these people should suffer in silence," she said.
"What has become apparent from those that have come forward is that it has affected them significantly throughout their years. It has affected their relationships, jobs. Often they are in need of a great deal of support and they often want to find out why it happened. We are seeking to provide them with those answers."
'Money is not going to bring back the old me'
Asked whether seeking compensation was a factor, Daly said "money was the last thing on the players' minds".
"The main reason they are coming forward is they've never had their distress addressed," she said. "There is a fear that seems to have been going on even since they were young."
One player added: "Compensation doesn't come into the matter, you can't turn back time and money is certainly not going to bring back the old me. Nature will do that in time.
"The two characters that have moved on and have had successful lives, they are walking around confident that it never happened."
Another added: "It's about giving the opportunity for other players who are in the same landscape to realise that if they do make a claim or a suggestion about racial abuse, similar to the Windrush generation, to the #metoo movement these people are no longer ignored.
"It's also about allowing younger players coming through to have a platform to say 'hang on a moment, I'd like to question that, can we have a conversation?'"