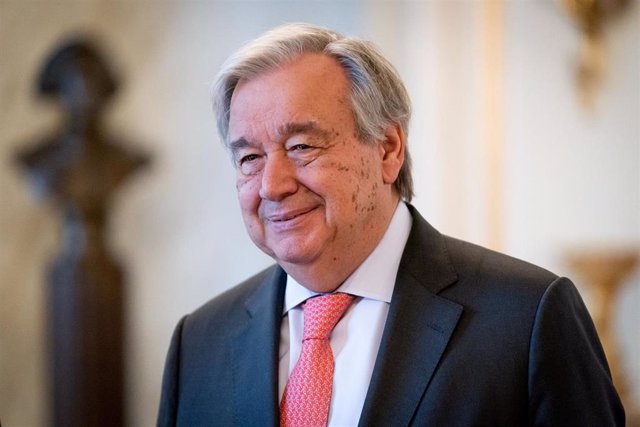 The UN Secretary General, António Guterres. – REUTERS / RITZAU SCANPIX DENMARK – Archive
MADRID, Nov. 26 (EUROPE PRESS) –
The Secretary General of the United Nations, António Guterres, welcomed on Monday the progress made in recent days towards a peaceful and democratic solution to the Bolivian crisis and urged the parties to maintain a peaceful and constructive dialogue.
"The unanimous approval of the bill to establish a new Supreme Electoral Tribunal that calls general elections as soon as possible in Bolivia shows the political will to end the crisis that afflicts the country," he said.
In a statement released by its spokesman, Stéphane Dujarric, Guterres has commended the progress announced this weekend towards a peaceful and democratic solution in Bolivia and reiterated the United Nations readiness to support the process "as appropriate."
However, Guterres has stressed that to consolidate the achievements and avoid an increase in violence it is necessary to take other measures such as "curb the rhetoric of intolerance, increase cooperation between all political forces and restore confidence among all those affected by violent events last month. "
Thus, the head of the UN has urged Bolivians to continue with a peaceful and constructive dialogue, and said that his personal envoy, Jean Arnault, will continue "working with the facilitators to support efforts in this regard."
Former President Evo Morales resigned on November 10 after the Organization of American States (OAS) confirmed "irregularities" in the presidential elections of October 20, whose official results granted him a fourth term.
Days later he arrived in Mexico, where he is in the capacity of political asylum. The former tenant of the Burned Palace denounces that he has been the victim of a "coup d'etat" and, consequently, does not recognize his interim successor, Jeanine Áñez.
On November 14, after consulting with several parties, Arnault traveled to Bolivia as a personal envoy of the UN Secretary General to support efforts in search of a peaceful solution to the crisis.
In this month of protests, more than 30 people have died and more than 700 have been injured. The great conflict in El Alto has prevented fueling La Paz, which has generated a shortage of basic products, including food.