Guterres warns that "we live in dangerous times" and asks to reduce tension worldwide after the US attack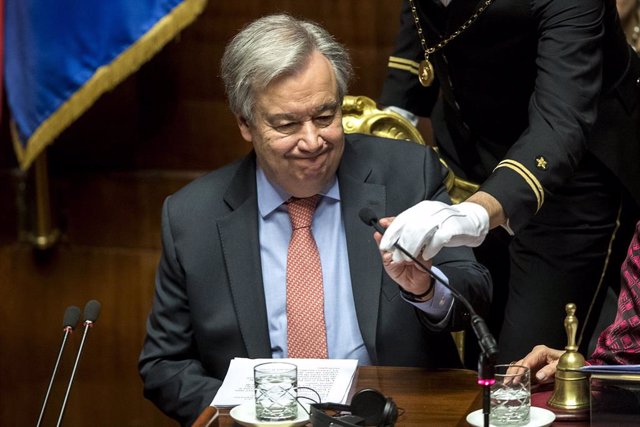 The UN Secretary General, António Guterres. – Roberto Monaldo / LaPresse via ZUM / DPA
MADRID, Jan. 6 (EUROPE PRESS) –
The Secretary General of the United Nations, António Guterres, on Monday warned that "we live in dangerous times" and has asked leaders from around the world to "reduce tension" after the attack carried out by the United States in Iraq, where he died Iranian general Qasem Soleimani.
"The New Year has begun with our world plunged into chaos. We are living in dangerous times," warned the UN chief, who said that geopolitical tensions are at their "peak since the beginning of the century."
In a statement from the United Nations, Guterres has lamented that "even nuclear non-proliferation can no longer be taken for granted." Although this time he has not made direct reference to the US bombing of the Baghdad airport, the Iraqi capital, on Friday after learning what happened, he said he was "deeply concerned" about the recent escalation of tensions in the Middle East.
As he has said, "growing tensions increasingly lead countries to make unpredictable decisions with unpredictable consequences and a deep danger of misunderstanding."
"I am in constant contact with leaders from all over the world. (…) My message is simple and clear: stop the escalation. We must exercise maximum restraint, initiate dialogue and renew international cooperation," he said.
The UN chief has also cited the climatic emergency and the commercial and technological conflicts that fracture world markets, undermine growth and sharpen inequalities.
In this sense, he has stressed the frustration of people, whose social unrest has increased. As you have noticed, this causes a growth of extremism, nationalism and radicalization, with a dangerous advance of terrorism in several areas of the world, particularly in Africa. "This situation cannot continue," he said.
Guterres has called not to forget the suffering caused by wars, in which it is always the common people who pay the highest price. "It is our duty to avoid them," he concluded.