Gun violence on London's streets 'must stop'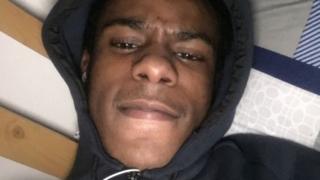 The mother of a 17-year-old boy who was killed over the weekend has called for an end to violence on London's streets.
"Let my son be the last and be an example to everyone. Just let it stop," said Pretana Morgan, whose son Rhyhiem was shot in Southwark on Saturday.
The teenager was one of four people shot in the capital over the bank holiday weekend.
In Wealdstone, two boys, aged 13 and 15, suffered head injuries, and a 22-year-old was shot in Lewisham.
None of them has injuries which are considered to be life-threatening.
In the latest incident, a 43-year-old man was stabbed in Ealing after a dispute over a man's driving on a residential street.
Scotland Yard said the victim, who is in a stable condition in hospital, was believed to be attacked after questioning the driving of the suspect – who then drove away.
Rhyhiem Ainsworth Barton, who was found in Warham Street, Southwark, was reportedly shot while playing football with friends and died at the scene on Saturday evening.
Witnesses told the BBC a number of shots were fired, including one that missed a woman and went through a window.
No arrests have been made as part of the murder probe.
His mother, Pretana Morgan, said she "couldn't have asked for a better son". She said he was not in a gang and aspired to be an architect.
Southwark Borough Commander, Simon Messinger, said the violence had "rightly caused concern" and the "fast-paced" investigation was "progressing all the time".
He said additional officers would be on patrol for the rest of the weekend, supported by armed response officers on motorcycles, dog units and air support.
London Mayor Sadiq Khan said he refused "to accept that nothing can be done to stem the appalling rise of violent crime".
Skip Twitter post by @MayorofLondon
I refuse to accept that nothing can be done to stem the appalling rise of violent crime we are seeing across the country. Together with the police, community groups, victims and their families and Londoners, City Hall will continue to work ceaselessly to tackle violent crime.

— Mayor of London (@MayorofLondon) May 7, 2018
End of Twitter post by @MayorofLondon
Rhyheim's death came less than 24 hours before two other teenage boys were shot in broad daylight – around Sunday lunchtime – on a street in north-west London.
A 13-year-old boy suffered a shotgun pellet wound to the head within minutes of another teenager, aged 15, also being injured in a gun attack. Both boys remain in hospital.
A Scotland Yard spokeswoman said they were investigating whether the incidents, which occurred at two separate locations on Wealdstone High Street, were linked.
In a separate attack, a 22-year-old suffered non life-threatening wounds in a shooting in New Cross Road, Lewisham, at about 18:30.
There have been no arrests in any of the cases.
Around the UK, two men died in stabbings in Liverpool and Luton across the bank holiday weekend.
A 20-year-old man died after being stabbed in Liverpool city centre early on Sunday, while another victim, also aged 20, was killed in Bishopscote Road in Luton on Sunday evening.
Labour MP David Lammy tweeted: "Enough. Enough. My heart goes out to families grieving children and teenagers. So many shattered lives, families and communities."
'Glamorisation of violence'
Official statistics released in April showed the number of homicides in London had surged by 44% in the last year.
The number rose from 109 to 157 – eight of which were a result of the terror attacks at Westminster Bridge, London Bridge and Finsbury Park.
Violent crime in London
Between April 2017- March 2018
157
Number of homicides (includes terror attacks)
52 Number of people killed in the capital in first 100 days of 2018

11 Number of those killed who were teenagers
Source: Metropolitan Police
PA
More than 60 people have been killed in the capital this year – of which about half were the result of stabbings.
A former Met Police Superintendent, Leroy Logan, said the "growing crisis" had seen "younger and younger people" being groomed by negative peer groups and gangs.
He told BBC Radio 4's Today programme that education was the key to stopping young people buying into "the thug life and all the glamorisation of that sort of violent lifestyle".
Criminologist Anthony Gunter, from the University of East London, said the government didn't "have a real handle or understanding of what's going on and what to do about it".
Former gang member Darryl Laycock, who has been shot on three occasions and stabbed seven times, said he lost more than 30 of his friends to gun crime.
His work includes trying to divert young people away from street violence.
He told BBC Radio 5 Live more money should be invested in youth centres to give children something to do "so they're not on the street getting mixed up in postcode wars".
More on gun violence