Guaidó's team consulted Foreign Affairs if it has changed its policy with Venezuela after Sánchez's words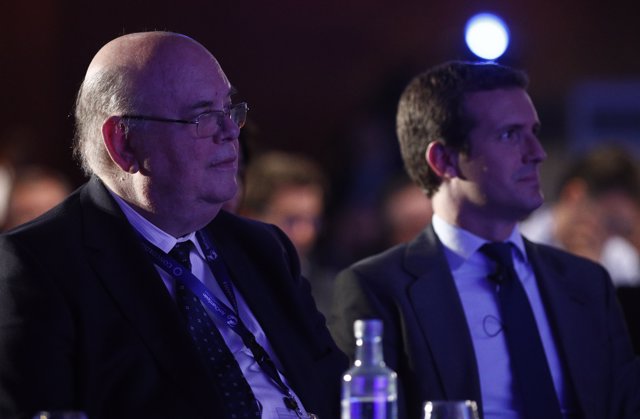 (ID) The representative of Guaidó in Spain, Antonio Ecarri and the president of the Popular Party, Pablo Casado, during the I Concordia Europe – AmchamSpain Summit. – Eduardo Parra – Europa Press
MADRID, Feb. 14 (EUROPE PRESS) –
The team of Antonio Ecarri, 'ambassador' of Juan Guaidó in Madrid, consulted on Thursday the Ministry of Foreign Affairs, EU and Cooperation if there have been changes in the Spanish Government's policy towards Venezuela, sources informed of the contacts have informed Europa Press .
The consultation, which was verbal, came a day after the president of the Spanish Government, Pedro Sánchez, spoke at the Congress of Deputies of Guaidó as leader of the opposition.
The response of the Secretary of State for Foreign Affairs and for Latin America was simple, and that Sanchez has made other interventions referring to Guaidó as president in charge, although he has not focused on them. Thus, Foreign transmitted that the Spanish policy has not changed and thus it has understood the team of Ecarri.
OUTDOORS INTERESTED BY GUAIDÓ UNCLE, ARRESTED
In the conversation, Exteriors expressed interest in the situation of Juan Guaidó's uncle, Juan José Márquez, arrested on Tuesday upon his arrival in Caracas with his nephew. The Guaidó presidency has issued an international alert that its international envoys spread.
In addition, this Friday Ecarri said that "there is no contradiction" in considering this "president in charge" of Venezuela and at the same time leader of the opposition, as said on Thursday the Minister of Foreign Affairs, EU and Cooperation, Arancha González Laya .
"He is the president in charge, constitutionally, by the National Assembly and leader of the opposition to the usurper regime. There is no contradiction," Ecarri said in a message on his Twitter account.
Ecarri was appointed by Juan Guaidó as his ambassador to Spain in February 2019 and the Spanish Government gave him the symbolic status of "personal envoy" of the recognized president in charge, but he maintained the credentials of the ambassador sent by the Government of Nicolás Maduro to not break diplomatic relations.
GONZÁLEZ LAYA: "GUAIDÓ IS TWO THINGS AT A TIME"
This Thursday, González Laya tried to resolve the controversy raised by the fact that the president of the Government, Pedro Sánchez, referred to Guaidó as leader of the opposition a year after having recognized him as president in charge, stating that the Venezuelan leader is " two things at a time".
Speaking to journalists at the UN headquarters in New York, the minister said that the title of president in charge "who has recognized an important part of the international community, including Spain" is "a title that has been made to the measure of the situation in Venezuela "and that at the same time that is leader of the opposition.