Guaidó summons this Saturday in Venezuela a great day of protest to keep the pressure on the street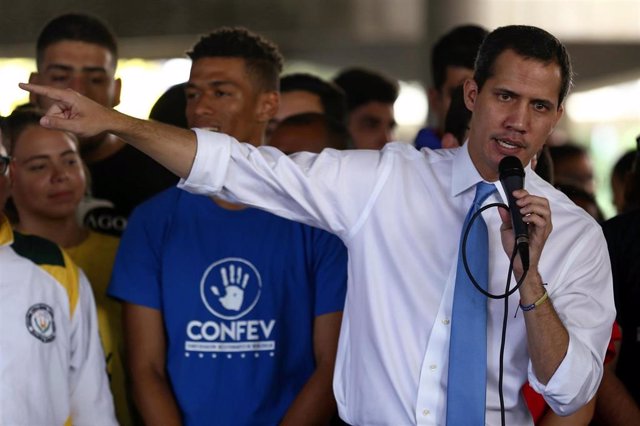 The self-proclaimed "president in charge" of Venezuela, Juan Guaidó – REUTERS / STRINGER.
MADRID, Nov. 15 (EUROPE PRESS) –
The self-proclaimed "president in charge" of Venezuela, Juan Guaidó, has convened for this Saturday a great day of protest throughout the country, with which he intends to maintain pressure on the street against the Government of Nicolás Maduro, stressing that "there are no dates magic or quick exits "to the crisis in the country.
"This November 16 has already achieved one of its main objectives: Breaking the false normal that seeks to get used to survive in the midst of this misery," he said in a video released in recent hours.
Guaidó has reiterated that the Venezuelan opposition has "a plan consisting of several measures and actions at the national and international level" to materialize the 'road map' that was marked when self-proclaimed, evict Maduro from the Miraflores Palace and call new elections Presidential
"I will assume my responsibility. I ask you to also assume your role in this fight," he urged Venezuelans, stressing that "there are no magic dates or quick exits here," but the solution to the crisis "will require more effort. and greater sacrifice. "
"Yes I can offer you and guarantee something, that we will get out of this if we all do what we have to do. Let no one wait for the final day to go out because there is no way to predict it, but there is a way to achieve it, fighting permanently and decisively, "he urged.
Specifically, it has encouraged Venezuelans to "continue this route of popular pressure … until the voice of the people resonates in each quarter." "That all Venezuela wakes up depends on everyone", has affected.
Since becoming interim president, Guaidó has made constant appeals to the Armed Forces to drop the Maduro Government. In these months, there have been significant defections, such as that of the former intelligence chief, but the military institution remains with the leader 'Chavista'.
Also, Guaidó has appealed to "the Venezuelan diaspora" so that this Saturday they can also manifest wherever they are. "Even if you are far from our land, think of all the reasons you have for expressing yourself in the streets," he told them.
The opposition leader has convened this day of protest amid regional convulsions. Peru, Ecuador, Chile and Bolivia have lived in recent months strong demonstrations, although for different reasons, that in the case of Bolivia have led to the resignation and exile in Mexico of its hitherto president, Evo Morales.
Guaidó has given his support to the self-proclaimed interim president of Bolivia, Jeanine Áñez, whom she considers an "inspiration" for Venezuela as the head of a "peaceful transition" propitiated by the "fair demand" of Bolivian protesters.
"These events send a strong signal to the illegitimate regimes of Venezuela and Nicaragua that democracy and the will of the people will always prevail," US President Donald Trump said in a statement.