Guaidó meets with Merkel in the Davos Forum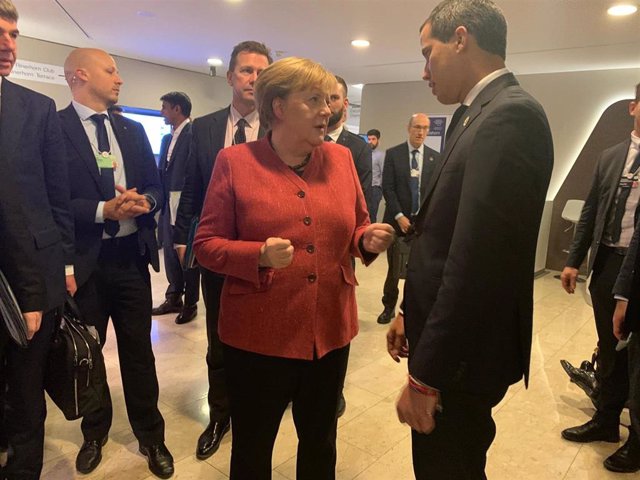 Juan Guaidó and Angela Merkel – TWITTER NATIONAL COMMUNICATION CENTER OF VENEZUELA
MADRID, Jan. 23 (EUROPE PRESS) –
The president of the Venezuelan National Assembly, Juan Guaidó, met Thursday with German Chancellor Angela Merkel, taking advantage of the presence of both at the World Economic Forum in Davos, in Switzerland.
"We had an encounter with German Chancellor Angela Merkel," Guaidó wrote on his Twitter, accompanying the message with a photo of both.
According to the self-proclaimed "president in charge," the German chancellor has transferred "his support and support to the Venezuelan cause," a gesture that has thanked him. "Together we have the ability to make a difference in Venezuela," he added.
The meeting with Merkel is the second that the opposition leader has with a European president, after the meeting he held on Monday in London with British Prime Minister Boris Johnson.
Guaidó, who just a year ago called himself the 'president in charge' of Venezuela as a counterweight to the "usurpation" of Maduro, has landed in Davos in the framework of his European tour, during which he has advocated increasing pressure on the regime ' Chavista '.
Recognized by more than fifty countries, including Spain, as interim president of Venezuela, Guaido denounced this Thursday the "brutal persecution" suffered by the opposition. "While I'm here, deputies are being kidnapped, jailed," he lamented in the forum.
Guaidó, who has accused Maduro's "dictatorship" of destroying the Venezuelan social fabric and economy, has been willing to "do whatever it takes" to "build a better future" for the South American country, although that happens, in his opinion, because the international community does not "leave Venezuela out."
"We are not going to stop. If we have to jump walls, as the deputies touched us … we will do it. I also tell them that we cannot do it alone. We face an international criminal conglomerate. We need your help today," Guaidó has raised.
In this sense, he has reiterated the main allegation of the opposition during this last year and that passes by claiming "a free, real, transparent election" that allows to overcome the current political division. Maduro has ruled out this possibility for now and only contemplates the renewal of the National Assembly.
This legislative body is, in the words of Guaidó, "the only public power that has been elected by free and democratic vote", a counterweight to a regime with "a repressive apparatus that pursues, that torture, that murders." "Destruction, corruption, death define the political model that Venezuela has today," he stressed.
Guaidó has indicated that on January 23, 2019 "democracy recovered in Venezuela" with his self-proclamation as 'president in charge' and, looking forward, he has warned that the mobilization will continue, without going into details about possible calendars.
The speech at the Davos forum is part of an international tour that first led Guaidó to Colombia – he has not clarified how Venezuela came out on Sunday – and then to Europe. After several stops in London and Brussels, the head of the National Assembly plans to arrive this weekend in Madrid.