Guaidó manages to enter the National Assembly despite the blockade of the Bolivarian Guard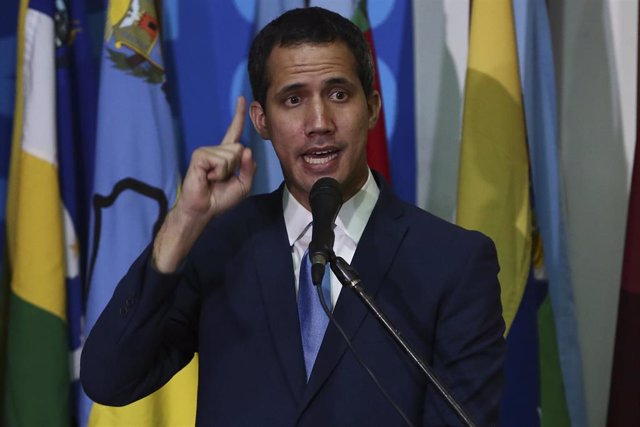 The self-proclaimed "president in charge" of Venezuela, Juan Guaidó – Pedro Ramses Mattey / dpa
MADRID, Jan. 7 (EUROPE PRESS) –
The self-proclaimed "president in charge" of Venezuela, Juan Guaidó, has managed to overcome the security cordon formed by the Bolivarian National Guard (GNB) thus entering the National Assembly to preside over the session on Tuesday, in the framework of the pulse between the opposition and the Government of Nicolás Maduro for the control of Parliament.
The Bolivarian National Guard (GNB) has been deployed since the early hours of the morning around the Legislative Palace, where the National Assembly is located, to prevent access to Guaidó and the deputies who support him to the parliamentary headquarters.
Guaidó has left from the headquarters of the opposition Democratic Action party to arrive on foot to the Legislative Palace presiding over a caravan of buses that have transferred the one hundred deputies who have ratified him as president of the National Assembly.
The opposition convoy has had problems reaching Parliament and, although it has finally succeeded, it has remained at the doors. The hundred deputies have gotten off the buses and tried to enter, with Guaidó at the head, but the GNB agents have prevented it.
A group of deputies has raised Guaidó, in an apparent attempt to jump the fence of the National Assembly, something he already tried on Sunday, but the uniforms have prevented him from pushing, according to VPI images.
Guaidó has labeled the Venezuelan president, Nicolás Maduro, as "dictator" and "cowardly" for "militarizing" the National Assembly. "We are going to do everything humanly possible … to be able to meet," he promised.
More than half an hour later, the opposition leader has managed to break through into the National Assembly, where he has occupied the chair of the Presidency to start the session, although some deputies had not yet managed to enter.
Guaidó has warned that, if 'Chavismo' prohibits them "physically" access to Parliament, "because it is the last weapon they have at the moment," the opposition will seek "alternatives" to carry out their work. "Here we are to defend their rights … We are going to recover Venezuela, damn it!"
On January 5, a vote should be held in the National Assembly to elect the new parliamentary leadership in which the majority opposition that Captain Guaidó hoped to ratify him in office so that he could also continue as "president in charge" of Venezuela.
However, Venezuelan forces took access to Parliament and prevented Guaidó from entering and the deputies who support him, who finally held the vote in the editorial of the Venezuelan newspaper 'El Nacional', where he was re-elected by 100 votes, 16 more than necessary.
At the same time, Luis Parra was elected by the 'chavistas' deputies and the dissident opposition as president of the National Assembly, in a vote that has been rejected by a good part of the international community.
Both intended to preside over their first ordinary session on Tuesday. "We are going to risk the skin once again," Guaidó said Monday. The only point on today's agenda of the National Assembly chaired by him is the "rejection of the military takeover and assault on the Legislative Palace."