Guaid ó warns Maduro that "the pressure is going to reach the level it should reach"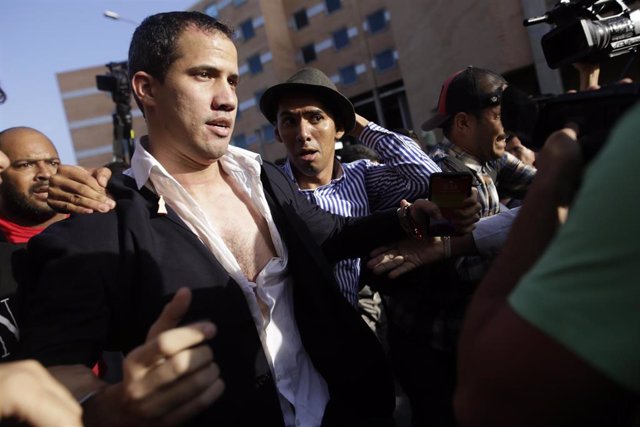 The self-proclaimed "president in charge" of Venezuela, Juan Guaidó, on his return to the country after an international tour – Rafael Hernandez / dpa
MADRID, 12 Feb. –
The self-proclaimed "president in charge" of Venezuela, Juan Guaidó, has warned Venezuelan President Nicolás Maduro on Wednesday that "the pressure is going to reach the level that he should reach" after his return to the country after a tour in which He has revitalized international support for his cause.
Guaidó ended a tour on Tuesday that began on January 19 and has taken him to Colombia, the United Kingdom, Brussels, Davos, France, Spain, Canada and the United States. The opposition leader has ensured that his international partners have committed to take concrete measures to increase pressure on Maduro.
The head of the National Assembly has called a meeting with the press for this Friday during which he has advanced that will explain in detail the commitments he has reached in each country he has visited.
Guaidó has emphasized that Venezuelans must now do their part, urging to revive popular mobilization against Maduro. From now on, "we are going to see a unified people, not only with protests, but with an escalation in the pressure that will reach the level that it should reach," he said, according to the National Communication Center.
He has also asked his supporters to be prepared "for the violent response of the dictatorship." In this regard, he recalled the struggles that occurred on his return to Venezuela on Tuesday due to the strong security deployment around the Maiquetía International Airport, in Caracas.
At this point, he also referred to the situation of his uncle, Juan José Márquez, who has been missing since customs agents intercepted him Tuesday in Maiquetía to explain why he was wearing a "protective shirt", as detailed on Wednesday His wife, Romina Botero.
"As Maduro is a coward, who does not show his face, who does not dare to step on a square without security, attacks a member of my family, who is disappeared by the cowardly dictatorship," denounced Guaidó.