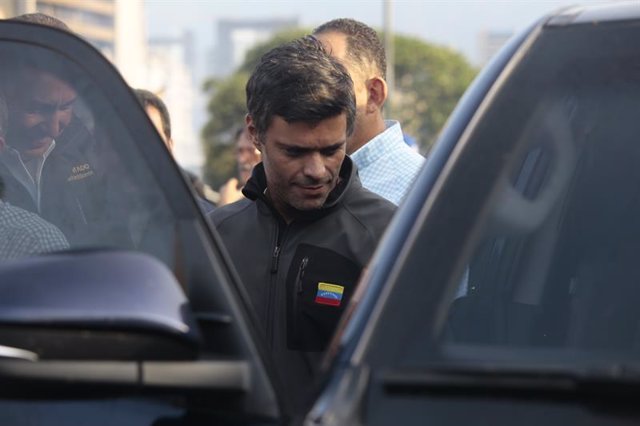 The Venezuelan opponent Leopoldo López – DPA – Archive
MADRID, Feb. 19 (EUROPE PRESS) –
The self-proclaimed "president in charge" of Venezuela, Juan Guaidó, said Wednesday that opposition leader Leopoldo López "remains firm", six years after being arrested in the first wave of protests against the Government of Nicolás Maduro.
Guaidó has remembered via Twitter that "six years ago, and like hundreds of thousands of Venezuelans who have sacrificed for Venezuela, Leopoldo López gave a transcendent testimony of struggle."
López, then the main leader of the Venezuelan opposition, led the massive marches against Maduro that took place in 2014, the first challenge for the Bolivarian president after the death of Hugo Chávez.
He was arrested on February 18 of that year after surrendering to the security forces, who were seeking him for inciting violence, a charge under which he was sentenced to almost fourteen years in prison.
López was held in the military prison of Ramo Verde, in Caracas, where he reported that he was ill-treated, and subsequently placed under house arrest. On April 30, he was released by his own custodians as part of the 'Operation Freedom', with which he and Guaidó attempted a military uprising.
Once the failure of the 'Operation Libertad' was verified, he took refuge in the Chilean Embassy and, shortly thereafter, moved to that of Spain, where he has remained a "guest" since then.
"Leopoldo remains firm, like an entire country that dreams free and will not rest until it is done," said Guaidó. "He who tires, loses", has riveted, citing Lopez himself.
In addition, the "president in charge" has claimed his work this year as interim president, stressing that now the Venezuelan opposition has "the capabilities and confidence of the world", so he has predicted "new news."
López, who in these months has adopted a low profile, has also wanted to remember this sixth anniversary, although in his case he has done so by celebrating the sanctions adopted on Tuesday by the United States against the Russian oil company Rosneft for his business with the Government of Maduro.
The Venezuelan opponent has attributed this important step of the US Administration to "the successful international tour" of Guaidó, in which he has asked his partners "to increase the pressure against the dictator and his allies."
"On several occasions we have urged Russia to put itself on the right side of history, which is none other than supporting the Venezuelan people who are in search of their freedom," López said, regretting that, however, "they insisted on collaborating. with the dictatorship and those are the results of his actions. "
Lopez has stressed to the Kremlin that "only in a free Venezuela Russia can have a reliable and serious partner in our country", while the other Maduro allies have warned them that "they will have to assume, sooner rather than later, the consequences Of their acts". "Enough of supporting Maduro's mafias!" He has proclaimed.