Guaid ó meets with Pompeo to address measures against "international dictatorship partners"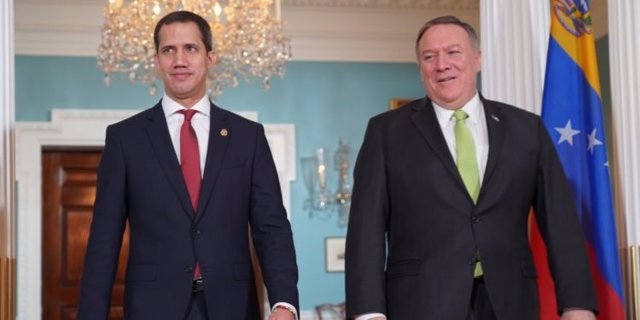 The self-proclaimed "president in charge" of Venezuela, Juan Guaidó, and the United States secretary of state, Mike Pompeo – TWITTER OF THE VENEZUELA COMMUNICATION CENTER
MADRID, Feb. 6 (EUROPE PRESS) –
The self-proclaimed "president in charge" of Venezuela, Juan Guaidó, met Thursday with the US Secretary of State, Mike Pompeo, to discuss the measures to be taken against "the international partners of the dictatorship" of Nicolás Maduro, in the framework of his international tour, which has now taken him to Washington.
Guaidó and Pompeo have "monitored the development and objectives of the Anti-Terrorist Summit held in Bogotá, Colombia, and the measures that will be implemented so that the international partners of the dictatorship reiterate their support for the usurper regime," the Center of Information National Communication, which serves as the press office of Guaidó.
The opposition leader has also met with the US special envoy for Venezuela, Elliott Abrams. "We work on specific actions to stop the destruction of our country by the dictatorship," said Guaido himself on Twitter.
In addition, he has met with the administrator of the United States Agency for International Development (USAID), Mark Green, who has thanked "all the support for the (humanitarian) emergency in Venezuela and the support for the foundations that have channeled help. "
"With USAID we also work to combat the persecution of NGOs that are helping the most vulnerable Venezuelans and the disinformation campaign undertaken by the dictatorship," he added.
The highlight of Guaidó's passage through Washington was the meeting he held Wednesday at the White House with US President Donald Trump to discuss how to join forces in order to foster a "democratic transition" in the Caribbean nation.
Guaidó went on Tuesday night to the Capitol invited by the White House, which is, in principle, the last stop of the international tour he undertook on January 19 and has taken him to Colombia, United Kingdom, Brussels, Davos , France, Spain and Canada.
Trump then asked Guaido to take "his people" the message that "all Americans are united with the Venezuelan people in their just struggle for freedom." "His tyranny mandate will be crushed and broken," he said of Maduro, whom he called "socialist dictator" and "illegitimate leader."
Guaidó intends to regain the international momentum he obtained a year ago when he was declared interim president with the declared intention of overthrowing Maduro. More than 50 countries, including the United States, the majority of Latin Americans and numerous Europeans, including Spain, have recognized him as such but the 'Chavista' leader remains in power.