Guaid ó ensures that "install the legislative period" on Tuesday and claims that "the Republic is at stake"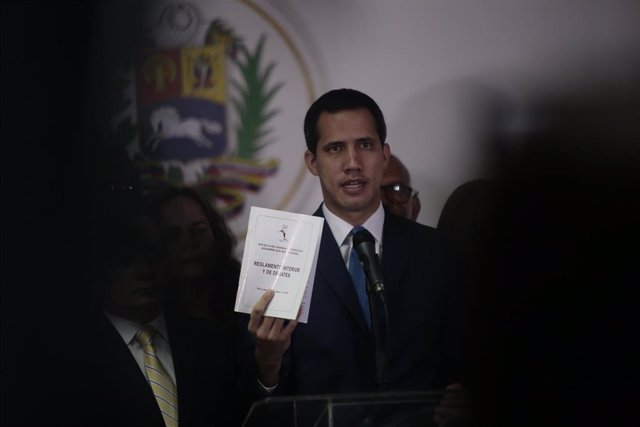 The Venezuelan opposition leader, Juan Guaidó. – Rafael Hernandez / ntn24 / dpa
MADRID, Jan. 6 (EUROPE PRESS) –
The opposition leader and "president in charge" of Venezuela, Juan Guaidó, has assured that on Tuesday "they will install the legislative period" despite the movements of the government of the president, Nicolás Maduro, and has claimed that "the Republic is at stake."
"The regime will see if it continues to run forward with its abuses, they have no way to install a quorum. Yesterday, dignified deputies proved not to be corruptible, they gave their faces to the people," Guaidó said in relation to what happened on Sunday during the controversy. Voting that took place in the National Assembly.
"It is not the Parliament that is at stake but the Republic, the mask falls to the dictatorship, the process of conspiracy. The rules of the interior and debates implies distance voting, the dictatorship is in despair, they did not let in to the deputies, "he explained.
Guaidó, who has been ratified as president of the National Assembly in an alternative session held in the editorial of the newspaper 'El Nacional, has stated that when he tried to enter the legislative headquarters there were in place "up to six alcabalas (checkpoints) for prevent the entry of deputies. "
Thus, he has denounced that the duty of the "FANB is to comply with the Constitution and not decide who is a parliamentarian or not." "They keep hiding the dictator, we must exercise sovereignty," he insisted on statements to the media.
"Tomorrow the military have to make a decision, yesterday they were complicit in the dictatorship," he warned before venturing that "tomorrow they will make a fool of themselves."
In this regard, he stressed that the only way to prevent them from entering the chamber is "to prohibit physical access again." "It is obvious that we have a majority, in any collegiate body the basics are the majority. They try to intimidate us, if they want to go look for me they know where I live," he said.
The opposition leader has stressed that "they will risk the skin." "We are going to put the chest; Venezuela is worth it, our children are worth it. Tomorrow we are going to risk the physique, we ask that you accompany us, thanks to the students who spoke," he said.
For his part, Venezuelan deputy Luis Parra has ratified himself as the legitimate president of the National Assembly of Venezuela and has ensured that the vote held in the first place complied with the protocol set by the Constitution.
Parra, considered a dissident among the ranks of the opposition, has appeared before the cameras after the chaotic incidents on Sunday, during a vote during which Guaido was unable to access the camera after reporting intimidation and obstacles by the police.
At the same time that Parra appeared before the cameras, the opposition Democratic Unity Mesa coalition has reiterated, through its Twitter account, that Guaidó and more than 40 deputies were prevented from entering the first vote.
"The National Assembly is one, it is the one that was installed at the headquarters of 'El Nacional', (.. 🙂 they have their repressive bodies, that's what the dictatorship counts, and with complicity," he concluded Guaidó.