Guaid ó concludes its international tour asking for the "union" of Venezuelans: "We have the support of the world"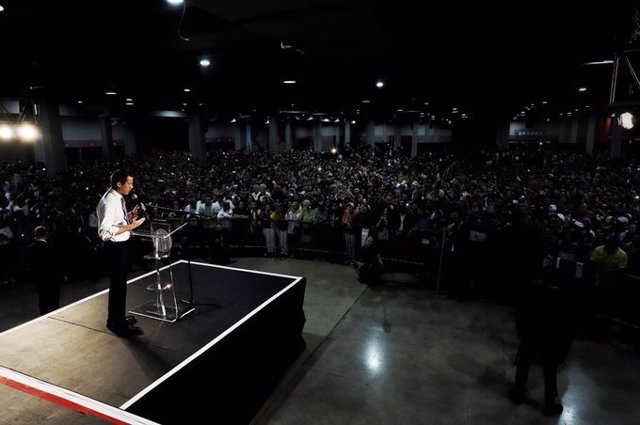 Image of the self-proclaimed "president in charge" of Venezuela, Juan Guaidó, in his speech in Miami. – TWITTER JUAN GUAIDÓ
MADRID, 2 Feb. –
The self-proclaimed "president in charge" of Venezuela, Juan Guaidó, has finished this Saturday his international tour in Miami (United States) calling for the "union" of all Venezuelans and has ensured that they have "the support of the world."
"We are together! We are united for a cause of freedom and democracy!", He said through his Twitter account, adding that they will consolidate a "free and democratic" country.
"We know what we face and all the actions that are necessary are going to be carried out responsibly, with the support of our allies," said Guaidó, who has insisted that he will not allow "evil" to be banalized and that Venezuelans get used to the current situation in the country.
In this regard, he has stressed that he has a strategy for Venezuela and has asked citizens to be attentive to the next calls since, although he has not specified the day, he has maintained that he is preparing his return to Venezuela after touring several countries around the world.
"They have the possibility of leaving us alone and taking the exit. But if they don't, there will also be a way out and strength to move forward," the opposition leader added.
The Venezuelan leader has assured that his goal is to take his country to a "really free" presidential election taking into account "all possible options to pressure the dictatorship," he said in a press conference following his speech, collected by the local newspaper 'El Nacional'.
In addition, he has insisted that we must assess "all options" to put an end to the "tragedy" that Venezuela is experiencing and which ensures that it has repercussions throughout Latin America.
"The bombs were not seen, but the avatar of a war is felt. The pain, the crying, children without their parents, five million refugees, a hyperinflation. We are paying the avatars of a war. I will tell you the comparisons: Yemen, South Sudan, Syria. Only Syria surpasses us in refugees, "said Guaido.
The opposition leader has had meetings with American politicians such as the United States Secretary of State, Mike Pompeo, the United States Secretary of Commerce, Wilbur Ross, the White House adviser, Ivanka Trump, or the business manager of United States for Venezuela, Jame Story.
So far, he has not met with the president of the United States, Donald Trump, although he said he was going to do "everything possible" to meet him.
Guaidó has met with representatives from the United Kingdom and Madrid, in addition to German Chancellor Angela Merkel, President of France, Emmanuel Macron, Prime Minister of Canada, Justin Trudeau, and Colombian President Iván Duque.