Grenfell Tower: What has happened to the donations?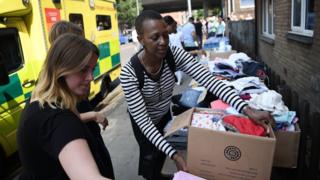 The vast majority of money donated in the wake of the Grenfell Tower tragedy has now reached survivors and relatives, new figures reveal.
Police say 71 people died when fire engulfed the tower in North Kensington, west London, in the early hours of 14 June last year.
In the following days and months, there was an outpouring of donations: money, but also items, from clothes to baby milk, from bedding to bottled water.
A month after the tragedy, Reality Check reported that only a fraction of these donations had reached survivors and relatives.
That is no longer the case – most of the money has now reached people.
Money distributed
Back in July, nearly £20m had been raised, but less than £800,000 had been distributed.
More cash has been raised since then.
The figure is now £26.5m, according to the Charity Commission for England and Wales.
Of this, £20.9m has been distributed to survivors and relatives, a far bigger proportion than last summer.
Lots of charities involved
The three biggest fundraisers account for 78% of the cash raised – the British Red Cross, the Kensington & Chelsea Foundation, and the London Community Foundation/Evening Standard Dispossessed Fund.
Eighteen other fundraisers, including Muslim Aid, Family Action, and the Art for Grenfell auction at Sotheby's, account for the rest.
Cash for survivors
Once money is raised by fundraising charities, it is sent to distributing organisations, which then give out the cash to survivors and relatives.
The majority of this has been done by the Rugby Portobello Trust, a local charity helping survivors of the fire, and the London Emergencies Trust.
Several smaller organisations account for the remaining funds.
The 140 households in Grenfell Tower itself received approximately £82,000 each from the Rugby Portobello Trust, while the 26 households in the nearby walkway blocks received about £30,000 each.
Injured and bereaved
The London Emergencies Trust (Let) has been distributing money to those hurt in the blaze and the families of those who died.
As of 25 January 2018, the amounts have reached:
£90,000 to the next-of-kin for each person who died
£30,000 to those in hospital for one week or more
£10,000 for those in hospital for four to seven days
£3,500 to those in hospital for between three hours and three days
Not all of the cash has been handed out yet – dealing with the injured and bereaved, and their families, is a "complex financial management challenge", a spokesman said.
"People did not necessarily apply for charitable gifts straightaway. Remember that some will have been hospitalised and not in any condition to apply. In the cases of those who lost loved ones they too may not have been ready to apply straightaway."
The organisation has also had to do careful checks that all claims are legitimate – last November a conman admitted pretending his family had died in the fire, in order to claim about £12,500.
A spokesman for the trust said it hopes to have distributed almost all of its funds soon.
Physical donations
Distributing money is complex enough, but the physical items that poured in last summer presented charities with an even bigger, if welcome, logistical headache.
When Reality Check first looked at the issue back in July, just a small proportion had been distributed. As with the cash donations, the picture is very different now.
Overall more than 200 tonnes of items were donated, figures from the British Red Cross reveal.
There were about 40,000 boxes in total, enough to fill three full-sized football pitches.
More than 600 volunteers eventually sorted through every item.
The proceeds of the donations that were sold were passed on to survivors via the British Red Cross's Shop for Grenfell Fund, which raised £226,000 in total.