Grenfell Tower inquiry: Girl's tribute to cousin Mehdi El-Wahabi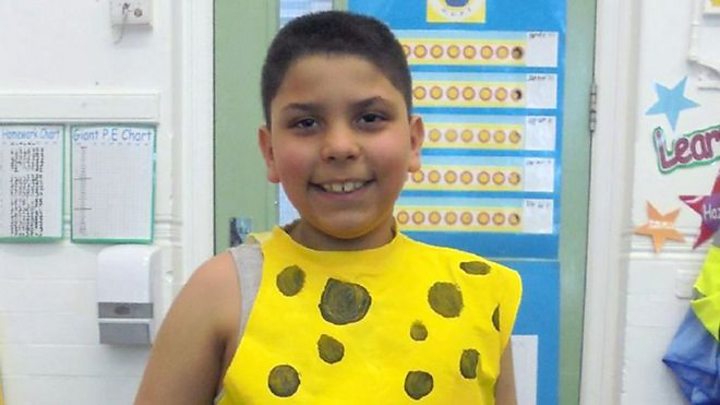 A nine-year-old girl has paid tribute to her young cousin who died in Grenfell Tower fire alongside four members of his family.
Sara Chebiouni recalled playing with Mehdi El-Wahabi and read a poem written by one of his school friends at the inquiry into the blaze.
The family – Abdulaziz, 52, Faouzia, 41, Yasin, 20, Nur Huda, 16, and Mehdi, eight, died in their 21st floor flat.
Sara's father Hamed El-Wahabi wept as he recalled the "heartbreaking" events.
There were also tributes to Jessica Urbano Ramirez, who was two weeks away from her 13th birthday, and to the five members of the Kedir family, who had been in their 22nd floor flat when the fire took hold on 14 June last year, causing 72 deaths.
The poem for Mehdi described him as "marvellously generous", "incredible" and "happy and helpful".
Sara, who also lived in Grenfell Tower, read out a tribute to Mehdi from his head teacher and recalled her time with the young daughters of the Gomes family, his neighbours on the 21st-floor, who managed to escape the fire but whose baby Logan was stillborn shortly after.
Wearing a grey sweatshirt top with Grenfell written on it, she added: "I am looking forward to continuing playing with baby Logan's sisters again, but it is difficult knowing that Mehdi will never be able to play with us ever again."
Born in Morocco, Abdulaziz was a porter at University College London Hospital and a "popular colleague known for being kind to his patients", said his brother.
Hamed said: "After our father passed away, Aziz became the heart of our family, he took on a father figure; the supporter, the protector and the carer."
Faouzia El-Wahabi was remembered by her sister-in-law Hanan as a wonderful baker with a talent for sewing and a "real presence in the community".
Remembering Huda, who was in the middle of GCSEs, her younger cousin Mariam told the inquiry: "We all wanted to be like her."
Zak Chebiouni said football coach and accountancy student Yasin was an "inspiration" to others, adding that a "piece of him will always live on through me".
Day-by-day: the inquiry so far
Rescue 'stopped too soon'
Hashim Kedir, 44, died alongside wife Nura Jemal, 35, daughter Firdows Hashim, 12, and sons Yahya Hashim, 13, and Yaqub Hashim, six, in their 22nd floor flat.
In a statement, Mr Kedir's sister Assema Kedir Habib revealed the health of her elderly father in Ethiopia deteriorated after he heard about the fire. He died 12 days later.
Ms Habib remembered Yaqub's "boundless energy" and the kind-hearted Yahya.
Firdaws was described as an "intelligent, wise and eloquent" girl with an "amazing voice". In a video played to the inquiry the broadcaster Jon Snow recalled awarding her a speech-writing prize.
Nura Jemal "could befriend absolutely anyone", Ms Habid said, and Mr Kedir was "our dearest, smartest, soft-hearted and generous brother and uncle and my best friend".
She said Mr Kedir made earning money and helping the family his priority, working in construction and as a parking attendant, before becoming a black-cab driver.
But Ms Habib questioned why more was not done to save the family.
They were "cremated unwillingly" after being told to stay in their flat, she said, adding: "It felt like the attempt to save them, to save what was left of them, stopped too early."
"Why didn't the UK as a government try to do more that night?" She asked. "Was it because the lives of the victims of Grenfell Tower didn't matter?"
'Justice needed'
Questions about the response to the fire were also raised by the family of a long-time resident of Grenfell Tower, who died after going into the burning block to wake up his daughter.
Steve Power's former partner Claudia Davis urged the inquiry chairman Sir Martin Moore-Bick to "do right" by the inquiry.
His daughter Sherrie told the hearing that reports suggesting her father, 63, decided to stay in his 15th-floor flat because of his Staffordshire Bull Terriers were untrue.
Father-of-five Mr Power, a keen fisherman and dance music DJ, had been advised to stay put by the authorities, Sherrie said.
Sitting alongside three of Mr Power's other children, she added: "He needs justice, all the victims do, because as much as he loved that block he didn't deserved to die in it."
At the inquiry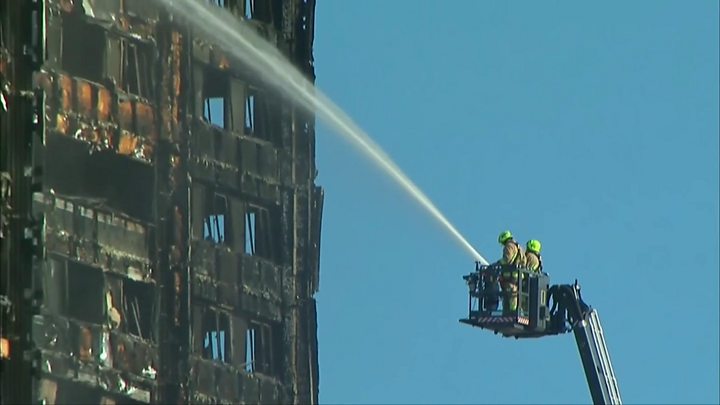 By Duncan Leatherdale, BBC News
All the commemorations have paid tribute to the best qualities of each person.
But what makes a particularly powerful impression are the little personal details.
Vincent Chiejina was the only person his sister Obi knew who could actually make crisps at home.
Abdulaziz El-Wahabi always greeted people in the same way, "hello guv'nor" for men and "hello darling" for women. His wife Faouzia was a talented baker and seamstress.
It is those details, as much as the kindness, infectious happiness and all-round magnificence of the deceased, that really reminds you that behind these many names were real, relatable people.
It's also worth noting the extent to which the inquiry is trying to make this incredibly hard task as easy as possible for the bereaved.
From counsellors around the room and calm-down breathing classes after each session, to breaking on time for afternoon prayers, the emphasis is still very much on those who lost so much.
'Emptiness inside us'
In a video, Jessica Urbano Ramirez's sister said it broke her heart that she will not be able to watch her "grow up into a beautiful girl".
"Not a day goes by where she doesn't cross my mind," Melanie Urbano Ramirez said. "I will miss having a sister but she will always be in my heart."
Jessica's family had not been in their 20th floor flat when the blaze broke out and had launched frantic search for their daughter in the following days.
Her father Ramiro Urbano said: "There are no words to describe the feelings of emptiness inside us all.
"Every day, every hour, and every minute we will lose concentration on whatever we are doing, whether it is a family gathering, or at work, or even alone at home, because she will be in our thoughts forever."
A shrine to Jessica and photographs of her on a trampoline and smiling next to birthday cakes was shown in the film.
Loved her home
The inquiry also remembered the "lovely, bubbly" Ligaya Moore, 78, who liked dancing, visits to restaurants and shopping trips.
Her friend Nenita Bunggay said the Filipino pensioner, who had lived in the UK for 43 years and worked as a nanny, "was so proud to live in Grenfell.
"She would always say every time we walked past: 'Nenita, that's my building, 21st floor. It's a big building and I love it so much, even though I'm alone there, I love seeing it every day'".
Vincent Chiejina, 60, who was found dead on the 17th floor, was a massive fan of Star Trek, his sister Obi said in a video tribute on behalf of his family.
Vincent had grown up in Nigeria before their family moved to the UK and he studied engineering at Sheffield University.
Obi said: "He guided and gave directions to others. Let's celebrate and remember those who help others."
'More than an angel'
Khadija Khaloufi was remembered by her husband, Sabah Abdullah, as a person who always thought of helping her friends and neighbours.
The couple lived on the 17th floor of Grenfell Tower and Mr Sabah said their children could not believe what happened, adding: "I am not trying to make my wife an angel or something, but to them she was more than an angel."
"I lost part of me", he said in a film tribute.
Listen: Grenfell Tower inquiry podcast with Eddie Mair