Grenfell Tower inquiry: Disabled woman placed on 18th floor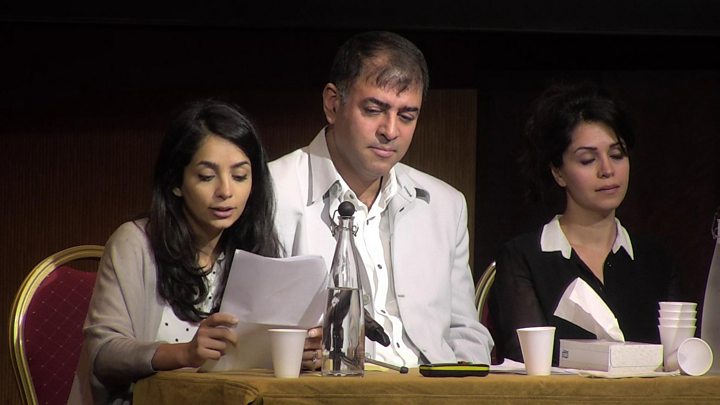 A woman whose disabled mother, Sakineh Afrasiabi, died in Grenfell Tower has criticised the council for housing her on the 18th floor of the block.
Nazanin Aghlani said her 65-year-old mother's "human right to escape" was impeded by housing her so high up.
She said: "Our mum lost her life not only due to the fire that night, but to the corporate negligence of the very people who were to ensure her safety."
Ms Afrasiabi was partially sighted and got around using a tri-walker.
Who were the victims?

What can we expect from the inquiry?
Speaking on the seventh and final day of the inquiry's commemoration hearings, Ms Aghlani said the council told her mother in 2003 that she should not be housed above the fourth floor of any building.
But – "after being refused many suitable properties" – in 2016 she moved into a flat on the 18th floor of Grenfell Tower "out of desperation".
Her daughter, Ms Aghlani said: "Every day, again and again, as our mind tries to make sense of this disastrous tragedy, we come to the conclusion that it was not only the horrifying fire that took my mum's life that night.
"The discrimination and failure in duty of care by the housing allocations team which resulted in a vulnerable, physically disabled and partially sighted pensioner being housed on the 18th floor of a tower block equally took the life of my mum.
"The very people who said, years before, that she was not to be housed above the fourth floor of a lifted building.
"She couldn't go down 18 floors of stairs on a good day, let alone in a fire. Her human right to escape was denied even before the fire happened."
Ms Afrasiabi, who was from Iran, moved to the UK in 1997.
The 65-year-old grandmother died alongside her sister Fatemeh, who had been visiting her.
The inquiry had previously heard that on the night of the fire Ms Afrasiabi and her older sister Fatemeh had gone to the 23rd floor, where they "believed that help was coming from above" to rescue them.
The inquiry heard that Fatemah's husband was unable to pay tribute to the mother of five because his immigration application was refused.
Day-by-day: the inquiry so far
Day 1: Tribute to baby as Grenfell inquiry opens

Day 2: Families walk out as Grenfell video shown

Day 3: Victim's son 'prays for death' to join father in heaven

Day 4: Grenfell niece tribute distress for aunt

Day 5: 'We will never play again'

Day 6: Grenfell Tower dad blames firefighters
A man who died sheltering six people in his top-floor flat as they tried to escape the Grenfell Tower fire has been hailed a hero by his sister.
Raymond "Moses" Bernard, 64, gave refuge to neighbours who were unable to find a way down, his sister Bernadette told the inquiry.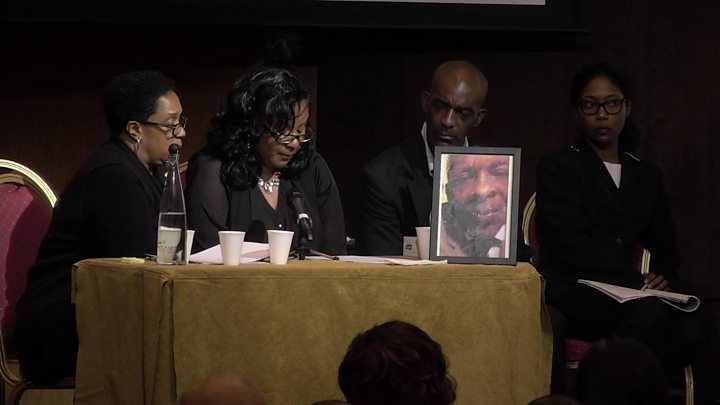 The father of three "did not deserve to die by suffocation, cyanide poisoning and ultimately burned" she said.
Ms Bernard said the six people found in her brother's 23rd floor flat included:
Deborah Lamprell, 45
Jessica Urbano (Ramirez), 12
Berkti Haftom, 29, and her son Biruk Haftom, 12
Hamid Kani, 61
"As there was no way down to escape the only alternative was to head to the top floor. There they met Ray and took refuge in his flat," Ms Bernard said.
She said the other residents were found on her brother's bed, while he was beside the bed on the floor.
"This shows the respect he gave to those who lost their lives that night, and we know that he would have given comfort to each of them before they took their last breaths and departed this world," she said.
"We know from the detail shared with us by the coroner that Ray was a hero on that tragic night."
She said her brother, who died with his dog Marley, "should not have been killed in this way".
"Sadly where there is no justice there is no peace. I will never forget, I will never forgive."
Karim Khaloufi, the younger brother of 52-year-old victim Khadija Khaloufi, was also unable to attend the inquiry after delays with his visa.
Mrs Khaloufi lived on the 17th floor with her husband of 27 years, Sabah Abdullah, who survived the fire.
Her brother said in his statement: "We had been led to believe that we could be in London for the inquiry, but now does not seem to be the case.
"No-one seems to care about our history or relationship to this case, or to care about our pain, our heartache or our desire for answers."
Counsel to the inquiry Bernard Richmond said "very strenuous efforts" were made to try to get him to the hearing.
Hamdan El Alami wept as he paid tribute to his daughter Farah Hamdan, who died in the fire with her husband Omar Belkadi and their daughters Malak Belkadi, eight, and baby Leena Belkadi.
Six-month-old Leena, who died from inhalation of fire fumes, was found dead in her mother's arms in a stairwell between the 19th and 20th floor.
Speaking through a translator, Mr El Alami described seeing his family for the last time, saying: "I did not know that that night was the night when they will die."
The husband of 33-year-old Isra Ibrahim, who died alongside her brother and mother on the 23rd floor, told the inquiry he spends two hours at her grave every week.
Said Essaouini said: "I feel like I lost my world. Every Friday I go to the cemetery and I sit down and I talk to her for two hours – I know she is listening to me and I know she loved me to the max as well."
He said he wished he had been with his wife on the night of the fire but she had sent him to the mosque.
"I believe she could have escaped the fire if she wanted to but she didn't want to leave her mother," he said.
"I will never find no-one like her, never ever, ever a woman like Isra again, and I am ripped up to pieces."
Meanwhile, a report has found there was a "badly flawed" response to the fire.
The review by Muslim Aid criticised "weak leadership" at Kensington and Chelsea Council and found volunteers were left "on the front line" helping residents find food and shelter.
The council said it could not comment due to an ongoing public inquiry.
At the inquiry
By Duncan Leatherdale, BBC News
For seven days, dozens of relatives have spoken, showed videos and offered pen portraits to 67 loved ones.
The last day saw each speaker receive a standing ovation at the end of their time on stage, even when it was a solicitor reading the words.
The final tribute, a video to the Choucair family, was paused halfway through as a member of the audience required medical treatment.
There was then further delay while Nabil Choucair, who was paying tribute to six members of his family, also received medical attention.
He was determined to see the tribute through, however, and returned to the stage to a standing ovation and cries of "we love you Nabil".
The video resumed with a short film made by 13-year-old Mierna Chocair, before she died, about her morning routine. It also featured cameos from her sisters.
There were laughs from the audience, especially at the blooper reel, but also a palpable sense that we were seeing three young lives soon to be lost.
Nabil's video ended with a picture of his sister, Nadia, waving for help from the window of their flat as it burned. Nabil ended with a national call for justice.
The hearing ended with the reading of the 72 names followed by 72 seconds of silence. It was a supremely poignant ending to the commemorations.
Getting to know the deceased has finished, next up are the big questions about how they came to die. That starts on Monday.
Listen: Grenfell Tower inquiry podcast with Eddie Mair