Grenfell Tower: Government will consult on cladding ban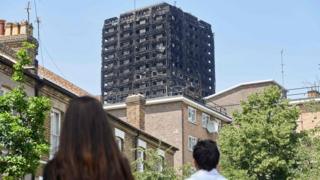 A review of building regulations set up after the Grenfell tragedy has called for a "radical rethink" of the safety system, but has stopped short of proposing a ban on flammable cladding.
Dame Judith Hackitt is calling for a new system for managing building safety in her government-commissioned report.
Architects, building firms and Grenfell survivors had backed a ban on using combustible materials in construction.
Seventy-one people died in the fire in the west London tower block last June.
Following the fire, cladding on hundreds of buildings failed safety tests.
On Wednesday, the government announced a £400m operation to remove dangerous cladding from tower blocks owned by councils and housing associations.
Dame Judith's independent review, commissioned by the government, has been looking into regulations around the design, construction and management of buildings in relation to fire safety.
Dame Judith – a senior engineer who used to chair the Health and Safety Executive – said in her final report that her proposals would result in a new regulator to oversee the construction and management of buildings, starting with 2,000 to 3,000 "high risk" residential buildings with more than 10 stories.
She did not call for a ban on materials capable of burning from tall buildings, saying: "This is most definitely not a question of the specification of cladding systems.
"Simply adding more prescription, of making amendments to the current system, such as restricting or prohibiting certain practices, will not address the root causes," she said in the report.
Instead, Dame Judith called for the building industry to lead a "genuine and lasting culture change".
Dame Judith's appointment to lead the review had been met with some criticism due to her former role as director of the Energy Saving Trust. The organisation promotes insulation containing a foam known as polyisocyanurate (PIR), blamed for fuelling the fire at Grenfell.
But the government said Dame Judith was "an independent and authoritative voice".
Her review is aimed at making sure similar events do not happen in the future. It is separate to the judge-led inquiry into the Grenfell fire, which will start taking evidence on 21 May.
Dame Judith's interim report, published in December last year, found building regulations were leaving room for shortcuts.
She said she was "shocked" by some of the practices she had seen and a "cultural change" was needed. The fire "should not have happened in our country in the 21st century", she added.