Grenfell Tower: 'Catastrophic' safety failures outlined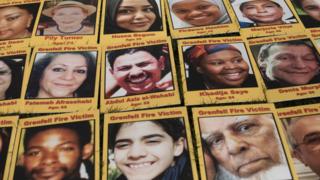 The Grenfell Tower inquiry is the start of "a long road to justice", survivors and relatives of the victims have said.
On Monday, the public inquiry will to turn to the cause and spread of the fire, having heard seven full days of tributes to the tragedy's victims.
Five expert reports will be published during this phase, which will also look at the tower's safety measures and evacuation on 14 June last year.
A total of 72 people died as a result of the blaze, the inquiry has said.
This includes Maria Del Pilar Burton, 74, who died in January. She had been in hospital since she was rescued from the 19th floor.
The inquiry is expected to last around 18 months.
Grenfell United, the main organisation for bereaved families and survivors, said in a statement ahead of the hearing: "This is the beginning of a long road to justice for ourselves, our families, our community and for the 72 people lost on 14 June 2017."
It continued: "We know there is a lot of evidence to come and this will be a long process.
"It is going to be difficult to see some organisations trying to defend their actions, but we have trust that as the evidence emerges over the coming months, this inquiry will reveal the truth about how our community was treated before, during, and after the fire."
This stage of the process will begin with a statement by a barrister representing the inquiry itself and the publication of expert reports which have been commissioned.
The reports include three studies of the way the fire spread – including one examining the contribution of the highly flammable cladding and insulation which had been installed as part of a refurbishment.
Another report will consider the building's own fire protection measures, and another the safety regulations in place at the time of the tragedy.
Last week at the inquiry, a woman whose disabled mother, Sakineh Afrasiabi, died in the blaze criticised the council for housing her on the 18th floor of the block.
Nazanin Aghlani said her 65-year-old mother's "human right to escape" was impeded by housing her so high up.
She said: "Our mum lost her life not only due to the fire that night, but to the corporate negligence of the very people who were to ensure her safety."
Day-by-day: the inquiry so far
Day 1: Tribute to baby as Grenfell inquiry opens

Day 2: Families walk out as Grenfell video shown

Day 3: Victim's son 'prays for death' to join father in heaven

Day 4: Grenfell niece tribute distress for aunt

Day 5: 'We will never play again'

Day 6: Grenfell Tower dad blames firefighters

Day 7: Disabled woman was placed on 18th floor