Grenfell Tower: Bereaved to speak at inquiry into blaze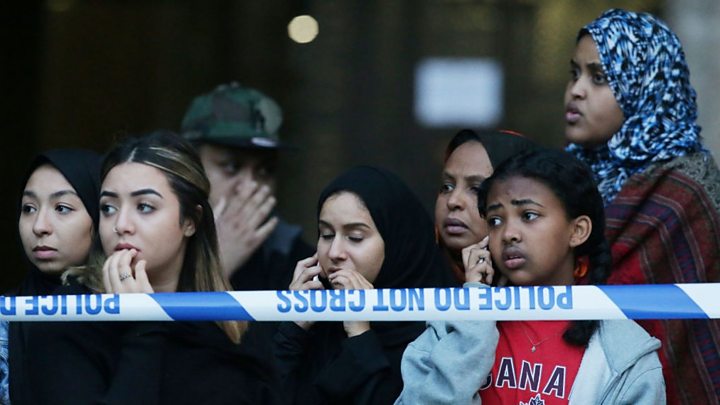 Every bereaved family from the Grenfell Tower fire will have the opportunity to make a statement to the public inquiry, which begins later.
The commemoration hearings are expected to last for two weeks, with no limit on how long each person can speak for.
The inquiry will look into 72 deaths – including one victim who died in January, having been hospitalised since the blaze on 14 June 2017.
Dozens are expected to read statements or show videos about their loved ones.
All the victims' names will be read out at the hearings, taking place at the Millennium Gloucester Hotel in South Kensington, west London, but it is understood that not all families will give a tribute.
Lead counsel to the inquiry, Richard Millett, said beginning the proceedings in this way will mean "we will never lose sight of who our work is for and why we are doing it".
The inquiry – chaired by retired judge Sir Martin Moore-Bick – will then begin taking evidence from other individuals and organisations, as well as evidence from expert witnesses.
This will take place at Holborn Bars in central London, where several procedural hearings have already taken place.
This first phase will focus on the facts of the night in North Kensington, including where and how the fire started, how it spread and how the building was evacuated.
Barrister Kieran Mitchell, who is representing three of the victims' families, said having their voices heard had been "a long time coming".
He said: "Starting this inquest process with statements and images means we have a stark understanding of how this horrific event has obliterated so many lives.
"However, this is just the beginning. We must get the answers everyone craves and understand how this tragedy could ever have been allowed to happen.
"Ultimately our clients want justice and we will not rest until those culpable are held accountable."
'Diverse panel'
After months of campaigning by the main group representing the victims, Grenfell United, Prime Minister Theresa May agreed a more diverse a panel should be installed for the second phase of the inquiry – ensuring the initial proceedings are not delayed.
Two experts will be appointed to sit with the judge after critics said the inquiry risked being a "whitewash".
A programme of what they will look into during phase two – due to begin later this year – will be announced closer to the time.