Grenfell family: 'You feel like a prisoner living here'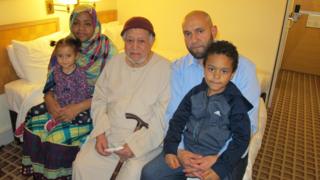 It is only when you walk through the door of the hotel room that you even begin to understand what life has been like for so many of the survivors, six months on from the Grenfell fire.
Stacked along a short corridor, past the wardrobe and door to the bathroom, they've piled up cases and boxes. Clothes on top. It's tidy, but a squeeze.
This is the room that grandpa sleeps in.
Then through the door into the adjoining room. You can't open it fully because of the single camp bed on the other side. Push through, however, and you're in another room, the same size.
The single bed is for dad – Mohammed. A double is shared by mum, son and daughter. They are five and two-years-old respectively, and there's little space in which to play.
There's nowhere for Mohammed's wife Munira to cook, so most of the time they get take-away meals. The plastic boxes are stacked up neatly on the side, ready to be washed.
Feeling like a prisoner
For the last six months this is how the Rasoul family has lived.
"It's a struggle," says the father, Mohammed Rasoul. "At first, immediately after the fire you think, 'Oh, OK, hotels, we'll be comfortable for a while.' But the novelty soon wears off when you realise it's the place you're going to be living in.
"It comes to the point where you feel like a prisoner living in here."
Mohammed's father had lived in the Grenfell tower for 37 years. Now 86, he has vascular dementia, and he's confused.
They have been offered a new home, but not close to where they used to live.
"All we want is to be rehoused in the same area. We want to be there back in the community, with our friends, my son's school," he says.
Nightmares
Take the underground from the stop close to Mohammed's hotel, change at Notting Hill, and in half an hour you can be at another hotel, which is currently home to Rashida Ali and her 10-year-old daughter Hayam.
"I have lots of nightmares. Sometimes I cry in the middle of the night and wake my mum and she calms me down and she says 'Don't worry, at least we're safe.'
"I don't feel safe when I'm by myself or like in a closed room and there's no escape next to me. I just feel I can't breathe."
Hayam and her mother are about to move into temporary accommodation. Rashida didn't want that initially, because she preferred not to have to uproot them twice. But she's decided to move, for her daughter's benefit.
"She needs to pack her stuff everyday, open suitcase, close suitcase, tidy up because this is not our home. We live in a hotel but it feels like we are homeless."
Like many she says she doesn't trust the council to deliver on their promise to move people into permanent homes when a suitable one comes up.
"The system keeps changing," she says. "I'm worried if I sign this (temporary accommodation contract) in a few months I'm not going to be allowed to move out."
'Nobody answers my emails'
Most of those made homeless by the fire are still in hotels – 28 of them are families with children.
The council wants to move people out into temporary flats. The Alves family has taken up the offer.
Miguel Alves says it allows them "to have a family life, to have meals together."
Miguel was one of the few leaseholders in the Grenfell Tower – he bought his flat in 2001 – and had 15 years of his mortgage left to pay. That adds another layer of complication.
Despite all he's gone through, he says he's having to fight to get the council to accept his demand that the new home he eventually moves into will be the same size with the same number of bedrooms as his Grenfell flat.
"I asked for a meeting, and they take one week, nobody answers my emails."
This lack of communication isn't a one off. At a recent council meeting one woman – Lidia, whose elderly mother lived on the top floor and who survived because she was away that night – said she had had 11 different housing officers assigned to her in the last six months.
Lidia's hands and legs were shaking uncontrollably with stress as she spoke. Many say the delays and uncertainty are taking a mental toll.
Council's challenge
Any local authority would be stretched by the task that faces Kensington and Chelsea Council.
It needs to find homes for 208 households. It has set aside £235m to do that. It takes time to buy properties.
Lawyers representing the former residents are striving to ensure that the new tenancy agreements and leaseholds match exactly the terms and conditions people had in Grenfell.
The council's director of housing, Maxine Holdsworth, says she "gets a huge amount of positive feedback about our frontline housing officers and how supportive they've been".
What then about the charges that officers change, that communications are difficult?
"Every single household has their own dedicated housing officer," she replies. "I would be confident that if someone rang up today their call would be answered they would get to speak to their housing officer."
The deputy leader of the council admitted last week that he felt embarrassed about the speed of the rehousing process.
'We stay positive'
Back down the Tube line, in the Rasoul family's hotel room they are keeping their spirits up, somehow.
"I'm OK," says Mohammed. "I have my moments, but there's so much that needs to be dealt with, so many things going on.
"It's not just our housing issues, it's our personal issues, living here. No personal space, the kids have to go to sleep at certain times, lights out for the children. But we stay positive."
And when he thinks about the home that he has lost?
"All my childhood memories, moments of happiness, laughter, food being enjoyed, my children being born there. I dare not delve into it too much, I know that will just break me."