Grenfell council apology over payment error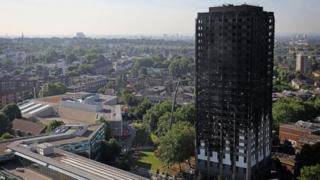 The council responsible for Grenfell Tower has apologised after 10 of the households left homeless by the disaster did not receive promised Christmas relief payments.
Kensington and Chelsea Council's deputy leader Kim Taylor-Smith said it was the authority's error and steps had been taken to correct it.
The 10 were said to be from Grenfell Tower and other nearby evacuated homes.
The council said it paid out more than 440 additional Christmas food payments.
Many of the families evacuated after the fire that killed 71 people in the west London tower block in June are still living in temporary accommodation – either hotels or serviced flats, some without cooking facilities.
Why no-one heard the Grenfell blogger's warnings

Grenfell Tower: The 21st floor
Following concerns that they may face higher costs at Christmas, the council offered an extra payment of £140 per person for food.
Mr Taylor-Smith said of the non-payments, which had also affected eight other households in the wider estate: "This was our error and we are sorry for this and have taken steps to deal with the households we are aware of."
He said households can get the money on a pre-paid credit card immediately, but if they wanted the money paid directly into a bank account, it will take a few days to process.
He said residents could contact the Care for Grenfell team if they needed help.