'Grave of the Fireflies' director Isao Takahata dies at 82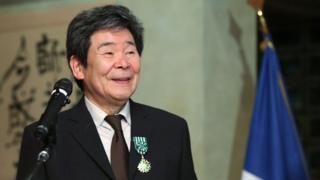 Japanese anime director Isao Takahata, co-founder of the famed Studio Ghibli, has died at the age of 82.
Mr Takahata was nominated for an Oscar in 2014 for "The Tale of the Princess Kaguya" but is best known for his film "Grave of the Fireflies".
Mr Takahata created Studio Ghibli with iconic director Hayao Miyazaki in 1985.
It has produced several blockbusters and become one of the world's most renowned animation studios.
Mr Takahata started his career in animation in 1959 at Japan's Toei studio, where he met Mr Miyazaki, who is usually seen as the face of Studio Ghibli.
The duo went on to co-found Studio Ghibli, and were described by local media as friends and rivals at the same time.
Mr Takahata's film "The Tale of the Princess Kaguya" earned him an Academy Award nomination in 2014 for best animated feature.
But his most loved work remains was the 1988 film "Grave of the Fireflies", a heartbreaking tale of two orphans during World War Two.
He also had a hand in producing other well-known works like "Nausicaa of the Valley of the Wind" and "Castle in the Sky".