Government sells off a further 7.7% RBS stake
The sale of 925m shares to institutional investors will see the government reduce its stake in RBS from 70.1% to 62.4%.
The sell-off resumes a huge privatisation programme that stalled in 2015, after the government bailed out the bank 7 years earlier during the financial crisis.
Sky News has learned that the sell-off will be priced at about 271p per share.
This will raise government proceeds of just over £2.5bn.
The government sold 5.4% of the bank in 2015 for 330p each – much lower than the 502p it paid for them.
UK Government Investments (UKGI) recently described it as "an entirely fair assumption" that it would be able to sell a £3bn stake in RBS during this financial year.
It also projected for a further £12bn of disposals during the next four fiscal years.
The Treasury said: "UK Government Investments (UKGI) today advised the Chancellor it would be appropriate to conduct the second sale of the Government's shareholding in the Royal Bank of Scotland.
"The Chancellor agreed with that advice and has authorised the process to begin."
The announced sell-off follows Sky News's exclusive story flagging the sale.
It also comes barely a month after the bank reached a long-awaited $4.9bn (£3.6bn) settlement with the US Department of Justice (DoJ), relating to the mis-selling of mortgage bonds before the financial crisis.
RBS also recorded its first profit in a decade this year.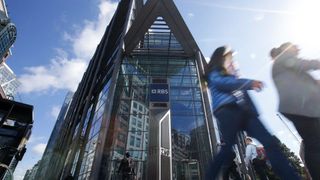 In February the bank reported a profit of £752m for 2017, the first time in a decade it has been in the black.
That compared to a £7bn loss for the year before – the latest in a string of losses going back to the financial crisis, that added up to £58bn.
Laith Khalaf, senior analyst at Hargreaves Lansdown said: "RBS has cleared several obstacles which have now unblocked the road to re-privatisation, in particular settling claims for mis-selling mortgage-backed securities in the US.
More from Business



Virgin Money and CYBG get extra time to mull £4bn merger




Liam Fox hopes UK will be exempt from US steel tariffs after Brexit




World's airports facing 'capacity crisis', industry body warns




'No Armageddon': Number 10 plays down 'no deal' Brexit fears




Goldman Sachs joins race for £109bn Lloyds funds contract




Delays as train operator Northern cancels 150 daily services
"Today's share sale is good news for private investors in RBS because it is a step towards becoming a normal bank again, though government sales may put downward pressure on the share price in the near term.
"As a business RBS remains a work in progress, and consequently an investment for recovery investors with a long term investment horizon."