Goldie fined for Glastonbury Festival bouncer assault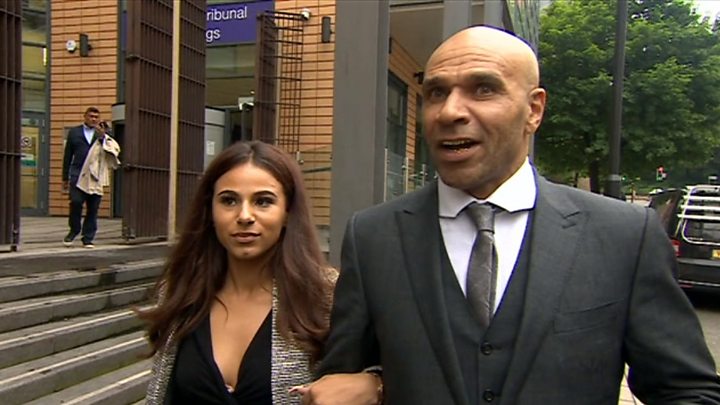 Drum and bass star Goldie has been ordered to pay almost £2,500 for assaulting a security guard at last year's Glastonbury Festival.
The DJ and actor – real name Clifford Joseph Price – attacked bouncer Dennis Poole on 23 June.
The court heard Mr Poole was assaulted after he refused to let Price's daughter go backstage.
Price, 52, of Tring, Hertfordshire, was fined £1,080 at Bristol Magistrates' Court.
He was also told to pay compensation of £500 and costs of £883.
Price was described as acting like a "raging bull" when Mr Poole refused him and his daughter access to a restricted area.
The court heard Chance Price, 20, and her friend had attempted to gain entry to the restricted area at about 19:00 BST.
They had been "whisked" into the BBC area, where Price was due to be interviewed by BBC Radio 1's Annie Mac, without passes but were stopped when they tried to re-enter after leaving to buy food.
Ms Price phoned her father for assistance but when he arrived it was noted that he also did not have the required wristband for the area.
Witnesses described how Price "puffed his chest out" before pushing Mr Poole back and placing him in a headlock.
Both men ended up on the floor, with the security guard suffering scratches to his face and neck, a sore ear and a grazed elbow.
Price initially claimed he had acted in self defence but subsequently previously admitted the offence in March via Facetime from Thailand.
He appeared in person alongside his daughter for sentencing on Wednesday.
Prosecutors offered no evidence against Ms Price, of Leavesden, Hertfordshire, and the case against her was dismissed.
District Judge David Taylor told Price: "Your entirely unjustified actions demonstrate an arrogant sense of entitlement based on your own self importance.
"The physical injuries sustained by Mr Poole at your hands were relatively minor but the assault has had an emotional and psychological impact on him.
"This was an assault on a man simply doing his job."
In a victim personal statement read to the court, Mr Poole said he had been forced to give up his career of six years.
He said: "He came right up in my face, he was telling me he could do what he wanted."
Speaking outside the court, Price said he was "apologising as a man would do".
He added: "I took a bullet for my daughter, I'm happy.
"Hopefully he can move on and understand if you're doing your job do it right."
Price, who was born in Walsall, West Midlands, made his name as a music producer in the 1990s when the rave scene was at its peak.
Known for his distinctive gold "grill" – or row of front teeth – he has also appeared on screen, acting in James Bond film The World Is Not Enough, Guy Ritchie's gangster caper Snatch and EastEnders.
More recently, he has cropped up in a number of reality TV shows, including Celebrity Big Brother, Strictly Come Dancing, and Come Dine with Me.