Gloucester cheese-rolling veteran breaks all-time record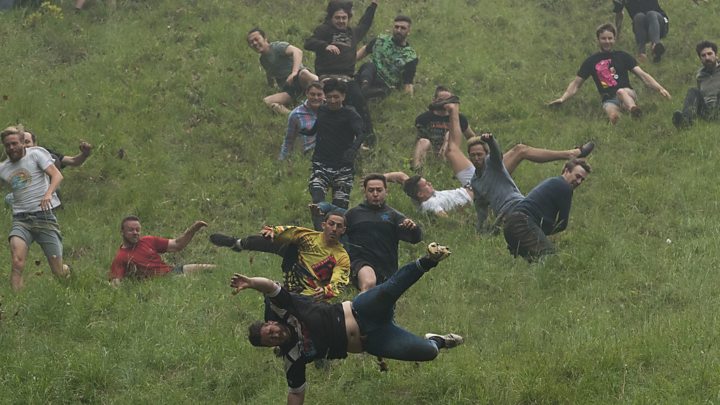 A champion cheese-roller has broken the all-time record for the most cheeses won in Gloucestershire's death-defying races.
Chris Anderson has now taken home a total of 22 double Gloucester cheeses in 14 years, after chasing the hefty 8lb (3.6kg) cheeses down Cooper's Hill.
The 30-year-old broke the record held by Stephen Gyde after winning the first of this year's men's downhill races.
Mr Anderson said: "I've got nothing to prove now, I'm happy."
Thousands of spectators turned out to watch thrill-seekers hurl themselves down the 1:2 gradient, chasing wheels of double Gloucester cheese.
In the first men's downhill race, Mr Anderson left other daredevils trailing in his wake as he sprinted, tripped and tumbled down the rough, uneven hillside chasing the 70mph cheese.
"There was a bit more pressure this year as there was a few more locals running," he said, after the race.
"And the kid next to me was pulling my shirt all the way down.
"But I'm happy, I've got nothing to prove now."
A soldier with 1 Rifles, Mr Anderson skipped the second men's race but won again in the third race tearing his left calf as he charged downhill.
And his reward – as with all winners – is to take the cheeses home with him despite only liking cheddar.
Among the competitors this year was Australian Nathan Anstey, 30, from Melbourne, who took part wearing just a pair of "budgie smuggler" swimming trunks.
Mr Anstey, who is known as Mangoes, said it was "just unbelievable".
"Last year was the first time I did it and I knew I had to come back. It's a no-brainer," he said.
"It's the most exhilarating thing you can do."
You may also Brie interested in: