Glasgow Clydeside Expressway bus crash: One critically hurt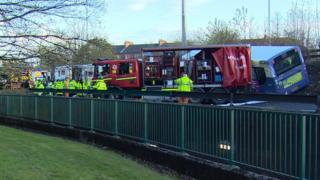 One person is in a critical condition and two more have been seriously injured in a bus crash in Glasgow.
Five more people are thought to have suffered injuries in the crash, on a sliproad to the Clydeside Expressway close to the Clyde Tunnel.
It happened on the A814 sliproad, just north of the tunnel.
The crash, just after 19:00 BST, involved a single-decker First Bus vehicle, which went up an embankment.
It is not clear yet whether any other vehicles were involved in the collision.
Ambulance, fire and police crews are at the scene, where casualties have been treated.
The A814 sliproad has been closed to traffic.
Police said eight people in total were taken to hospital.
Five people, including the bus driver, were taken to Queen Elizabeth University Hospital where one person is described as being in a critical condition.
One person was taken to Glasgow Royal Infirmary and two more to Royal Alexandra Hospital.