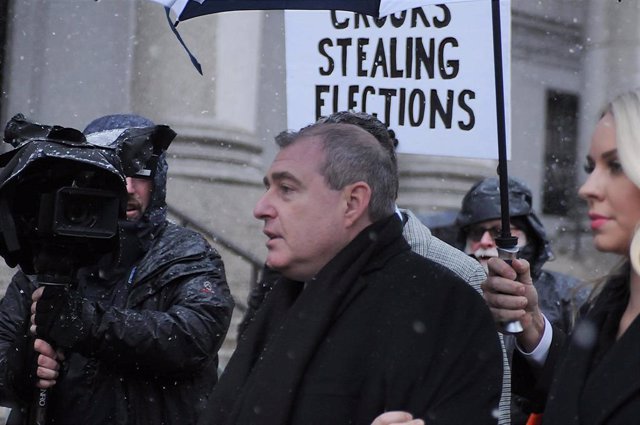 Lev Parnas, entering a court in New York – Catherine Nance – Archive
WASHINGTON, Jan. 16 (EUROPE PRESS) –
Lev Parnas, the accused partner of Rudy Giuliani, the personal lawyer of Donald Trump, has assured that the president of the United States "knew exactly everything" what his lawyer in Ukraine was doing to pressure local authorities in order to announce a investigation into Hunter Biden, the son of former US vice president Joe Biden.
Giuliani's imputed partner says Trump "knew exactly everything" what his lawyer did in Ukraine
"I am betting all my life that Trump knew exactly everything Rudy Giuliani was doing in Ukraine," Lev Parnas said, in an interview with the newspaper The New York Times, after his lawyer delivered documents and messages. They show Giuliani's maneuvers to try to meet with the President of Ukraine, Volodimir Zelenski, to force him to investigate Biden.
Parnas, an American nationalized Ukrainian citizen, has been sorry for trusting Trump and Giuliani, the president's personal lawyer and the main architect of the pressure campaign to force Ukrainian authorities to announce an investigation into Hunter's role Biden at the Burisma gas company.
Documents and messages delivered to the US House of Representatives show that Parnas was in touch to discuss his efforts in Ukraine with Tom Hicks, a donor and friend of the Trump family, and with Joseph Ahearn, who has raised money for groups Trump supportive politicians.
Parnas said he did not speak directly with Trump about his efforts but met with him several times and that Giuliani told him that the president of the United States was aware of what he was doing.
Parnas has specifically mentioned the text messages published this week by the White House in which Giuliani refers to the efforts to obtain a visa for an exalted Ukrainian charge that made accusations of corruption against Biden. In the messages, Trump's personal lawyer boasts of his efforts to obtain the visa. "This is going to work, I have the 'number one' in it," he says. According to Parnas, that mention refers to the president of the United States.
"My biggest regret is having trusted so much," said Giuliani's imputed partner. "I thought he was being a patriot and was helping the president," he argued, before pointing out that when he heard the president and his lawyer he thought he would not get into "trouble" and that he was not doing "anything wrong."