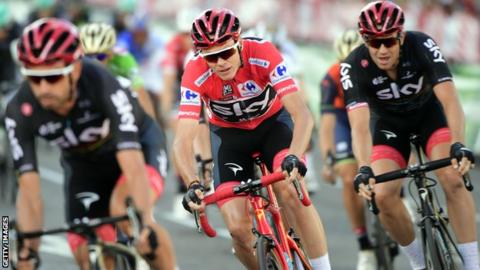 Four-time Tour de France champion Chris Froome has told the BBC he believes he will win his anti-doping case.
Froome, who begins his challenge for the Giro d'Italia on Friday, was found to have double the allowed level of a legal asthma drug in his urine after a test at last year's Vuelta a Espana.
Asked if he will be cleared, Froome said: "Yes. I certainly expect to be."
Giro d'Italia: Chris Froome expects to win anti-doping case
Meanwhile, Team Sky principal Sir Dave Brailsford has insisted his own position is secure.
Brailsford has not spoken publicly since a parliamentary select committee said Team Sky and former rider Sir Bradley Wiggins "crossed an ethical line" by using drugs allowed under anti-doping rules to enhance performance instead of just for medical need.
"Have I considered my position? Everybody who works in this game considers their position every day, don't they? I'm constantly thinking about whether I'm the right person to support these riders," Brailsford said.
"Things come and go, and things change, and the situation context changes, but I'm still here, and I'm here because I think I still can help these guys to be the best they can be."
'I certainly haven't had any sleepless nights'
There have been calls from some within the sport for Froome to withdraw himself from racing while his case drags on. However, he is free to compete under the rules of world cycling's governing body the UCI.
The urine test, taken on 7 September 2017, showed levels of Salbutamol, commonly taken for asthma, were at 2,000 nanograms per millilitre (ng/ml). That compares to the World Anti-Doping Agency's threshold of 1,000 ng/ml.
Froome said: "Everyone's entitled to an opinion. I can understand lots of people are frustrated at the lack of information, but this is a process that was meant to be confidential.
"It has been a challenging last few months but I like to think I've dealt with it very well. I certainly haven't had any sleepless nights.
"I'm confident that people will see it from my point of view when all the details are out there."
Dutch rider Tom Dumoulin, the 2017 Giro winner, admitted the uncertainty over Froome's case has cast a shadow across this year's race.
"It's not good for cycling. Everybody would like this not to happen, including Chris Froome, to be starting with doubts or uncertainty," he said.
"Maybe he is winning this Giro and a few weeks later they say he loses the title, and that's not good for him. It's not good for anyone.
"It's his decision to be here. My team is part of the MPCC (Movement For Credible Cycling) so if I was in same situation as him I wouldn't be here. But it's his decision and it's not up to me to complain about it."
Team Sky has not signed up to MPCC, a voluntary union of seven of the 18 World Tour teams which is based around a 10-point plan for clean cycling.
The first of those points commits to the provisional suspension of any rider who has returned an adverse finding.
The Giro begins in Jerusalem on Friday and stays in Israel for two further stages before transferring to Italy for the remaining 18.
It finishes in Rome on Sunday, 27 May.