Gig thief hid 53 phones in swimsuit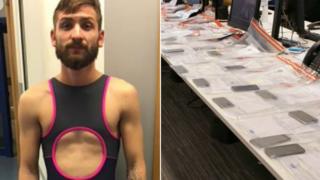 A "human deposit box" stashed more than 50 phones stolen at a gig in a body-length swimming costume, police said.
Alin Marin, 22, of no fixed address, took the phones during a Royal Blood performance at the Arena Birmingham on 18 November.
West Midlands Police said Marin stole 53 phones from people in the mosh pit, then hid them in the swimsuit.
The construction worker was jailed for three years after admitting theft at Birmingham Crown Court on Monday.
The force said it had information that thieves had targeted fans of the band at performances earlier this year, and undercover officers were in the crowd on the night.
Marin, a Romanian national, was arrested in nearby Broad Street shortly after leaving the gig and the phones were found in a nearby car park.
Sgt Julia Slater said: "He slipped phones inside the swimsuit and effectively turned himself into a deposit box for the phones, allowing him to carry tens of phones concealed around his body."