Gerry Adams backs Jeremy Corbyn as next PM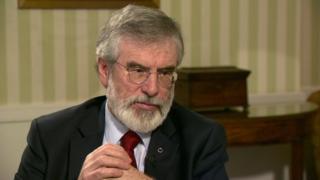 The outgoing Sinn Féin leader Gerry Adams has praised Jeremy Corbyn and said he would like to see him become the next prime minister.
He was speaking to the BBC's Andrew Marr as he enters his final week as president of the party he has led for almost 35 years.
He said Mr Corbyn was an "outstanding politician" and that he and Ken Livingston "kept faith".
He also said he still believes a deal can be reached to restore Stormont.
Mr Adams also repeated his party's belief that Brexit will be disastrous for the island of Ireland.
The 69-year-old is due to step down as Sinn Féin leader next weekend, when he will be replaced by Mary Lou McDonald.
He is one of the most recognisable and controversial figures in Irish politics and his departure marks a generational shift in the party's leadership.
Speaking on BBC One's The Andrew Marr show, Mr Adams praised Mr Corbyn's approach to negotiations in the early days of the Northern Ireland peace process.
Mr Corbyn and shadow chancellor John McDonnell have both faced criticism over their past dealings with Sinn Féin, including their decision to meet the party at Westminster in the 1990s, before the IRA ceasefire.
During last year's general election Mr Corbyn condemned the IRA's bombing campaign, after coming under pressure to distance himself from the group's activities.
On Sunday, Mr Adams said: "I would like to see Jeremy in that position [prime minister] for the benefit of people in Britain, leaving Ireland out of it.
"I think Jeremy is an outstanding politician and I hope my endorsement of him is not used against him in the time ahead.
"He and (former London Mayor) Ken Livingstone and others kept faith and they were the people who said, when others said no, talk.
"They were the people who were open to conversation about how to deal with conflict and how to get conflict resolution processes."
Mr Adams legacy as Sinn Féin leader will sharply divide opinion.
He has always denied being a member of the Irish Republican Army (IRA), but to many people, he is a hate figure who publicly justified murders carried out by the group during more than 30 years of the Troubles in Northern Ireland.
Others have hailed him as a peacemaker, for leading the republican movement away from its long, violent campaign towards peaceful and democratic means.
During the interview, he told Andrew Marr: "I would wish that no one had been killed or injured in the course of the conflict.
"We were able to come to an alternative. When you come forward with an alternative, sensible people will embrace that alternative."
Asked why he did not join the IRA when he was growing up in Belfast, Mr Adams replied: "I've never distanced myself from the IRA."
He said: "I did defend the IRA but I also was very critical of what the IRA did at times. The Birmingham pub bombings were wrong, I condemned that as well."
Mr Adams added: "You can only make moral judgements about people when you walk in their shoes."
Looking back on the violence, he said: "Even if it is accidental, how could anyone stand over the killing of a child or a civilian?
"In the awfulness and horror of war, you cannot stand over those incidents."
Asked by Mr Marr if he was a man of faith, he said that he was.
"The one thing I know about Jesus is that he forgave, he didn't go around condemning," he said.
"Treat people with dignity and people will respond in a dignified way; treat people badly and people will respond badly."
Mr Adams said he believed power sharing at Stormont could be restored.
"I've every confidence in Michelle O'Neill (Sinn Féin Stormont leader) in terms of her ability to make friends with the unionists and to go forward on the basis of equality," he said.
The Sinn Féin leader said some unionists held "very hard positions", but others lived in the "real world".
"They know they have to make friends with their neighbours and would have to go on. It is not about us any more, it is about the next generation."