Germany reaches in 2019 record figures in the sale of weapons achieving almost 8,000 million euros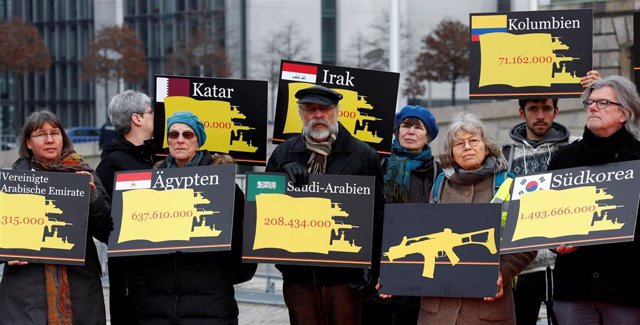 Activists during a demonstration in Berlin asking the German Government to end global arms exports. During a demonstration in Berlin. – REUTERS / FABRIZIO BENSCH – Archive
BERLIN, Dec. 27 (DPA / EP) –
The Government of Germany approved during 2019 contracts for arms exports worth 7.95 billion euros, which is the highest figure since 2015, as reported by the Ministry of Economy itself when questioned by the opposition in parliamentary headquarters.
According to the German authorities, the country increased its exports by 65 percent, with Hungary being the state that imported the most weapons worth 1,770 million. Egypt (802 million) and the United States (483 million) were the other main buyers.
The proportion of controversial exports to the so-called third countries, those that do not belong to the European Union or NATO, have fallen in 2019 from 52.9 to 44.2 percent compared to the previous year, but the absolute figure has increased by almost one billion euros, because among the 10 most important buyers are five of those countries.
The opposition has called these figures "dramatic", then, as explained by the international political expert of the Die Linke party, Sevin Dagdelen, "show that the entire export control system simply does not work."
By mid-2019, export permits had already exceeded those of the entire previous year by € 5.3 billion. The Minister of Economic Affairs, Peter Altmaier, explained that this is because the process of formation of the new government was long after the 2017 elections and the contracts were accumulated.