Germany pupil 'killed by classmate' at school near Dortmund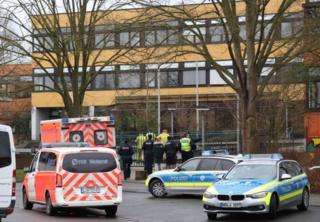 A pupil at secondary school near the German city of Dortmund has been killed by a fellow classmate, according to police.
Reports say a 15-year-old student stabbed a 14-year-old boy.
The attack happened at around 0800 local time (0700 GMT) at the Käthe Kollwitz comprehensive school in the town of Lünen.
One teenager has been arrested on suspicion of murder. Pastors are at the school to support pupils and parents.