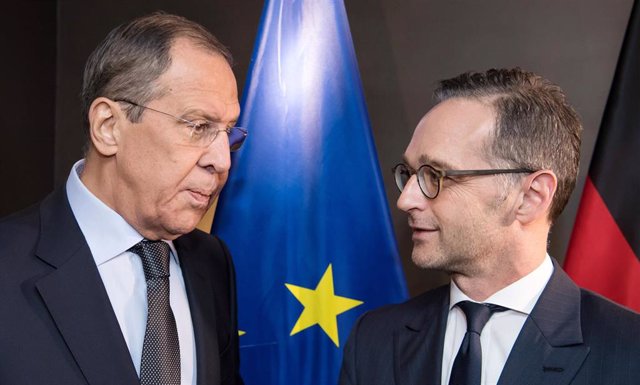 Sergei Lavrov and Heiko Maas, Foreign Ministers of Russia and Germany – Sven Hoppe / dpa – Archive
Moscow denies any involvement and warns that it will adopt reciprocity measures
Germany has expelled two Russian diplomats after the assassination commissioned by a Georgian citizen in Berlin last August, as reported on Wednesday by the German Foreign Ministry, which has declared them unpleasant people.
In its statement, the department headed by Heiko Maas explained that the decision has been taken in the absence of Moscow's cooperation with the investigation despite repeated requests in that regard by the German authorities.
The German Government, the note adds, considers it "imperative" that Russia collaborate in view of the fact that the Federal Prosecutor's Office has taken on Wednesday the investigation of the case because it considers that "sufficient evidence" suggesting that the murder was committed by order of agencies Russian or Chechen state.
The victim was shot dead in the back on August 23 in a parking lot in the Moabit neighborhood. The murderer approached him by bicycle and shot at the victim's back and head. A suspect, who is also involved in the murder of a Russian businessman in 2013, has been arrested.
The murdered Georgian, 40, of Chechen ethnicity, would have fought Russia alongside Chechen Muslims in the early 2000s in the war in this Russian republic, according to the Georgia Center for Human Rights Observation and Education.
For his part, and before hearing the news of the two expelled diplomats, the Kremlin spokesman, Dimitri Peskov, denied on Wednesday any involvement of Moscow in the murder.
"What does this have to do with the Russian authorities? These are absolutely unfounded assumptions," said President Vladimir Putin's spokesman, quoted by the Russian agency Interfax. "This matter is being exalted to some extent by the German media but this does not mean that this is the case," he insisted.
This week, the weekly 'Spiegel' reported in its digital edition that investigators suspected an involvement of the Russian state in the murder.
After knowing the measure adopted by Berlin, the Russian Foreign Ministry has announced that it will be forced to respond. "We are forced to implement a set of response measures," said the department headed by Sergei Lavrov, calling the expulsion of Russian diplomats a "hostile and unfounded act," according to the Sputnik agency.