Gay men told Leeds bar was for 'mixed couples only'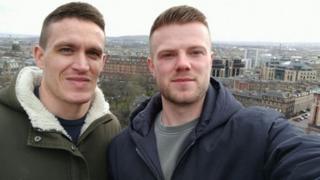 A gay couple were refused entry to a bar when bouncers told them they let in "mixed-sex couples" only.
Patrick Hannon, 30, and Jake Archer, 25, had enjoyed a meal before heading to Jake's Bar in Leeds for a drink at about 22:00 BST on 24 March.
The couple, from Newcastle, were left "speechless" when they were not allowed in because they were both men.
The venue said it "never discriminates" and is investigating the incident with its "externally supplied" door team.
You may also be interested in:
Flowers left for burglar 'an insult'

Man made football mascot in stag do prank

Stadium to get £70m revamp for Games
Public sector worker Mr Archer said there was no queue outside the bar and neither he nor his partner were drunk.
"We were a bit taken aback to say anything," he said.
"I was just thinking that if Paddy was my girlfriend then we would have been allowed in. It's discrimination."
The pair, who have been together for two-and-a-half years, said they were too shocked to argue with the doormen and went elsewhere.
Mr Hannon, a police officer, said: "If we were drunk or in a large group then you would understand.
"They need to think about how it makes them look – as a bar they are not very open minded."
Mr Archer tweeted the bar about the incident, but did not receive a response.
Jake's Bar is in Call Lane which runs parallel to Leeds' gay village and is in the heart of the city's nightlife.
Manager Paul Lane said it has a "strict equality and diversity policy" and would "never discriminate" against anyone.
It has launched an investigation into what happened on the night with the "external door team".
He said: "We have many customers who identify with LGBTQIA+ communities who frequent the bar regularly."
The BBC does not know the name of the security firm involved, but it has been contacted for comment by the bar.
What does the law say?
The Equality Act of 2010 says it is against the law to discriminate against anyone because of sexual orientation.
The act provides protection from discrimination as a consumer, when using public services and as a member or guest of a private club or association.
If you feel that you have been unfairly discriminated against then you can seek help from the Equality Advisory Support Service.
You may be able to take them to court and claim damages.
Source: Gov.uk
A spokesman for LGBT rights charity Stonewall said: 'It's against the law to discriminate against someone because of their sexual orientation in any circumstance, including entry to a bar.
"It's unacceptable that one in six LGBT people (17%) who visited a café, restaurant, bar or nightclub in the last 12 months have been discriminated against based on their sexual orientation and/or gender identity in Britain."
Similar claims have been made about the bar in reviews on travel review website TripAdvisor.
Thomas B said he was "outraged" by a "homophobic bouncer" in May last year.
He wrote: "I was with my partner and we were refused entry for not being in a mixed couple."
Brett T also advised in March 2016: "Avoid if you're male. Their new policy that won't let a group in (four people) unless it includes women is a joke."
Jake's Bar was asked to respond similar claims and whether they have a policy to only let in groups containing females.
Have you found yourself in a similar situation? Share your experiences by emailing haveyoursay@bbc.co.uk.
Please include a contact number if you are willing to speak to a BBC journalist. You can also contact us in the following ways: