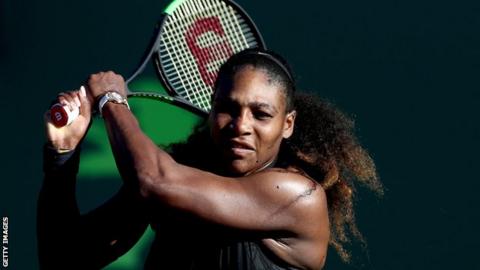 Serena Williams can win the French Open even though she "came back too early" after giving birth, says her coach Patrick Mouratoglou.
The 23-time Grand Slam champion has not played a match on clay since reaching the final at Roland Garros in 2016.
Williams, 36, withdrew from tournaments in Madrid and Rome this month, casting doubt over her participation at the French Open, which begins on 27 May.
French Open: Serena Williams can win at Roland Garros, says coach Mouratoglou
"Serena can achieve anything," Mouratoglou told the WTA website.
"She is working extremely hard, she is improving in all the areas fast. I am very satisfied and confident that she will be ready for Roland Garros."
Williams returned to the WTA Tour in March, six months after giving birth, but has struggled to find top form.
She reached the third round at Indian Wells, where she was beaten by sister Venus, before falling in the first round of the Miami Open to Japan's Naomi Osaka.
Mouratoglou says the goal is for Williams to get "even stronger than before", although he admits she was "far from being 100%" on her comeback.
"Serena clearly came back too early," he said. "She was not ready yet but needed to feel the competition, so she decided to play.
"It was a good experience as she realised all the work that needed to be done in order for her to be really ready."