Free Rein: Ex-Hollyoaks writers win an Emmy for Netflix children's show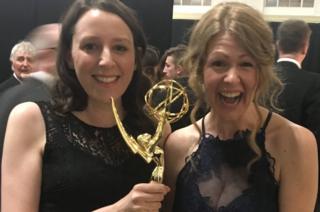 Two former Hollyoaks writers are celebrating winning the Emmy Award for best children's programme for their British-made Netflix show Free Rein.
Anna McCleery and Vicki Lutas created the show, which is filmed in Cheshire and Anglesey, while working on the Channel 4 soap.
Free Rein won outstanding children's or family viewing series at the prestigious TV award ceremony in LA.
"We're all walking around in a bit of a daze at the moment," Vicki says.
Free Rein follows American teenager Zoe and her little sister Rosie, who move to a rural island off the UK coast for the summer with their British mother, played by former Coronation Street star and Strictly Come Dancing runner-up Natalie Gumede.
Zoe, played by Jaylen Barron, turns out to be the only person who can tame a wayward horse called Raven, and ends up on the trail of a horse thief.
The show was made by Liverpool-based Lime Pictures – the production company behind Hollyoaks and The Only Way is Essex.
Lucas and McCleery first met when they worked on the teen-focused website BBC Switch, where they wrote for the online magazine Slink and teen soap The Cut.
"We used to write horoscopes and health and beauty tips," Anna says. Vicki adds: "We used to stalk Zac Efron quite frequently on the red carpet."
BBC Switch closed in 2010 and the pair ended up on Hollyoaks – Vicki as their head digital writer, before moving to the story team, and Anna as a freelance scriptwriter.
It is the second time this year that members of the Hollyoaks team have gone on to conquer Hollywood – a short film by two former cast members won an Oscar in March.
Anna says the long-running Channel 4 show was an excellent place to learn how to craft drama.
"The thing about Hollyoaks is it doesn't come up for breath," she tells the BBC.
"It's all about keeping the viewer hooked and we put a lot of that into Free Rein, just making sure that every scene ends on a question, that the end of every episode has things that you literally can't not tune in [for] again, and that is exactly how Hollyoaks works.
"And also just about being fast and lean in our writing – I take that a lot from Hollyoaks."
Hollywood glory for ex-Hollyoaks stars

The stars who've gone from Hollyoaks to Hollywood
Free Rein has become a hit among teens and tweens after being made available in 192 countries last year, and will return for a second season this summer.
Vicki says: "We both grew up around horses and we wanted to capture our experiences and the authentic way to do that was telling a story set in Britain. So we definitely wanted it to feel like it was based on things that we know.
"But we also did want it to have global appeal and we felt like having somebody coming over from America, from LA, would help appeal to a wider audience than just England."
Free Rein's competitors in the best children's show category at the Daytime Emmys were all North American shows.
It ended up winning two of the six awards it was nominated for – the other win being best directing in a children's programme.
The reaction of a teenage fan on the night was almost better than winning the actual awards, Anna says.
"As we were coming backstage feeling really shaky and freaked out, the first thing that happened was an American teenage girl cornered Jaylen, our star. She was also very shaky and excited because she loves the show and she had a selfie with her backstage.
"She was this audience member who was really excited to be there and she loved Free Rein. For both of us that was almost the thing that we will take away from the evening as the most important thing that happened in some ways!"
Follow us on Facebook, on Twitter @BBCNewsEnts, or on Instagram at bbcnewsents. If you have a story suggestion email entertainment.news@bbc.co.uk.