France opens the door to the expulsion of any foreign national who has committed serious crimes
French Interior Minister Gérald Darmanin said this Saturday that the government is studying the possibility of facilitating the expulsion from the country of "any foreigner who has committed serious crimes" and lifting age restrictions in this regard.
"We want to allow the expulsion of foreigners who have been found guilty of a serious crime by courts, regardless of their presence in the national territory," he said in an interview with "Le Monde".
The minister has now reminded that a foreign citizen cannot be deported if he meets certain conditions, such as B. Arriving on French territory before the age of 13, a constraint Darmanin wants to remove.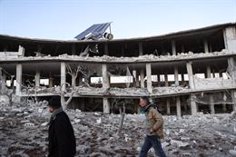 Russia vetoes extension of UN humanitarian aid in Syria
The government intends to include this provision in the forthcoming Interior Ministry (Lopmi) Guidance and Programming Law, which will be presented at the end of the summer.