France hostage crisis: Police shoot supermarket gunman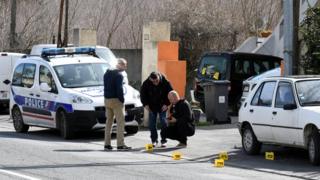 Armed police have killed a suspect who shot dead three people dead in a shooting spree in southern France.
The gunman hijacked a car and then took hostages at a supermarket in the town of Trèbes.
The man, named by ministers as 26-year-old Redouane Lakdim, pledged allegiance to the Islamic State group.
He is believed to have killed and wounded his victims in three separate incidents which began in Carcassonne, 15 minutes' drive from Trèbes.
He was said to have been heavily armed and demanding the release of Salah Abdeslam, the most important surviving suspect in the 13 November 2015 attacks in Paris, which killed 130 people.
Earlier, Prime Minister Édouard Philippe said that all signs pointed towards a "terrorist act".
How did events unfold?
The attacker began his spree of attacks in Carcassonne, say reports, where he first hijacked a car, killing one passenger and injuring the driver.
He then shot and wounded a policeman who was jogging with colleagues.
The suspect is then believed to have driven a few kilometres to Trèbes, where he charged in, shouting, "I am a soldier of Daesh [Islamic State]!" and took hostages in the Super-U supermarket in the small town.
Hundreds of police officers were deployed to the area and the vicinity was cordoned off.
A 45-year-old gendarme volunteered to swap himself for one of the hostages, say reports. He left his mobile phone line open during the operation so police could monitor the situation, Interior Minister Gérard Collomb told reporters.
When police heard gunshots on the phone line, they charged in to take control of the situation, during which the gunman was killed.
The gendarme, a lieutenant-colonel – who has been described by ministers as a hero – was reportedly injured.
What has the reaction been?
The Moroccan suspect was known to French intelligence services, said Mr Collomb.
"He was known for petty crimes. We had monitored him and thought there was no radicalisation," he said, according to Reuters news agency.
Counter-terrorism prosecutors are leading the investigation.
France has been hit with several deadly jihadist attacks since 2015 and has been on high alert since. A state of emergency put in place after the 2015 attacks in Paris was lifted in October.
In February, Salah Abdeslam went on trial in Belgium over a shootout in Brussels that led to his capture months after the Paris attacks. He is not expected to go on trial in France until 2020 at the earliest.
---
Major terror attacks in France
1 Oct 2017 – Two women stabbed to death at Marseille railway station; attack claimed by IS
26 Jul 2016 – Two attackers slit a priest's throat at his church in Saint-Etienne-du-Rouvray, Normandy. They are shot dead by police
14 Jul 2016 – A huge lorry mows down a crowd of people on the Nice beachfront during Bastille Day celebrations, killing 86. IS claims the attack – by a Tunisian-born driver, later shot dead by police
13 Jun 2016 – A police officer and his partner are stabbed to death at home by a jihadist, in Magnanville, west of Paris. He declares allegiance to IS, and police later kill him
13 Nov 2015 – IS jihadists armed with bombs and assault rifles attack Paris, targeting the national stadium, cafes and Bataclan concert hall. The co-ordinated assault leaves 130 people dead, and more than 350 wounded
7-9 Jan 2015 – Two Islamist gunmen storm the Paris offices of satirical magazine Charlie Hebdo, killing 17 people. Another Islamist militant kills a policewoman the next day and takes hostages at a Jewish supermarket in Paris. Four hostages are killed before police shoot the gunman dead. The other two gunmen are cornered and killed by police in a siege.
---
Are you in the area? Have you witnessed what has happened? If it is safe to share your experience please email haveyoursay@bbc.co.uk.
Please include a contact number if you are willing to speak to a BBC journalist. You can also contact us in the following ways: