Fourteen members of the security forces die in a Taliban attack in northern Afghanistan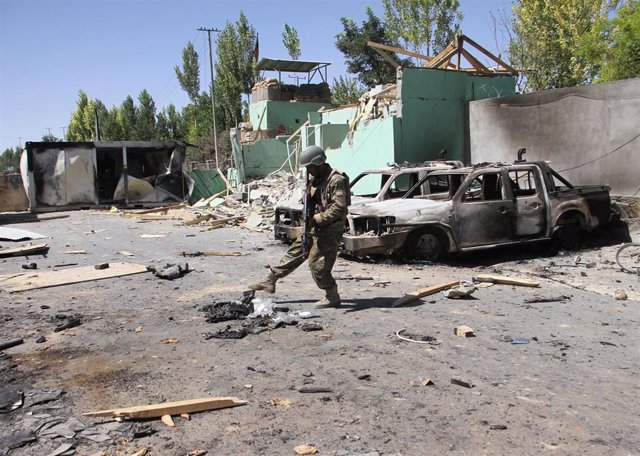 An Afghan soldier after fighting with the Taliban in Ghazni – REUTERS / MUSTAFA ANDALIB – Archive
MADRID, Dec. 30 (EUROPE PRESS) –
At least fourteen members of the Afghan security forces have died this Monday in an attack executed by the Taliban against a checkpoint located in the province of Jauzján, located in the north of the country.
The spokesman of the provincial governor, Maruf Azar, has detailed that the attack has been carried out in the Faizabad district and has added that five soldiers have been injured and two have been found missing.
The Taliban have immediately claimed responsibility for the attack, according to local TV network Tolo TV.
This same Monday, the Taliban spokesman, Zabihulá Muyahid, has come up with information about the possibility of a "temporary" ceasefire and stressed that the group "has no intention" to take this step.
Muyahid, who has labeled this information "false and unfounded," has confirmed, however, that "the United States has called for a reduction in the scale and intensity of violence."
"The discussions in the Islamic Emirate revolve solely around this specific issue," said Muyahid, who has stressed that the Taliban leader, Hebatulá Ajundzada, "has not yet issued a final decree and there are no differences within the Islamic Emirate around this issue. "
The Taliban have been talking with US diplomats for months to agree on the withdrawal of more than 20,000 troops from the international forces of Afghanistan in exchange for guarantees that the country will not be used as a base for terrorist attacks.
On the other hand, until now they have refused to negotiate directly with the government of the president, Ashraf Ghani, whom they consider a "puppet" of the West. Kabul has demanded a process of direct talks for the signing of an eventual peace agreement.