Four people dead as bridge collapses in Florida
The newly installed 950-ton bridge at the Florida International University collapsed on Thursday afternoon.
Sniffer dogs are being used to search the site for signs of life.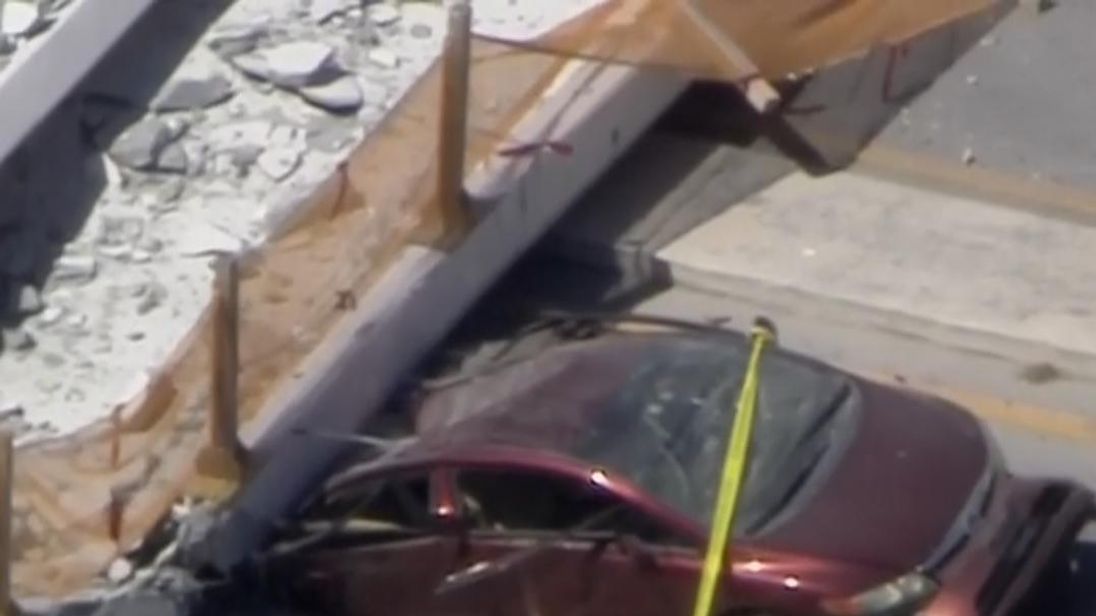 Several cars are trapped underneath and early reports indicated at least one person was injured. Multiple fire engines and ambulances were called to the scene.
In a press conference, Juan Perez, the director of the Miami Dade police department said: "Our thoughts and prayers go to the victims of this tragedy.
"We are assisting in the efforts and the main focus is to rescue people."
He declined to give the exact figure of missing or dead.
It has been confirmed that workers were on the top of the bridge, and there were "surface rescues" as well as two people pulled out of the debris.
A family reunification centre has been set up for anyone concerned about relatives involved in the tragedy.
Rescue workers will be on the site throughout the night, and possibly into the morning.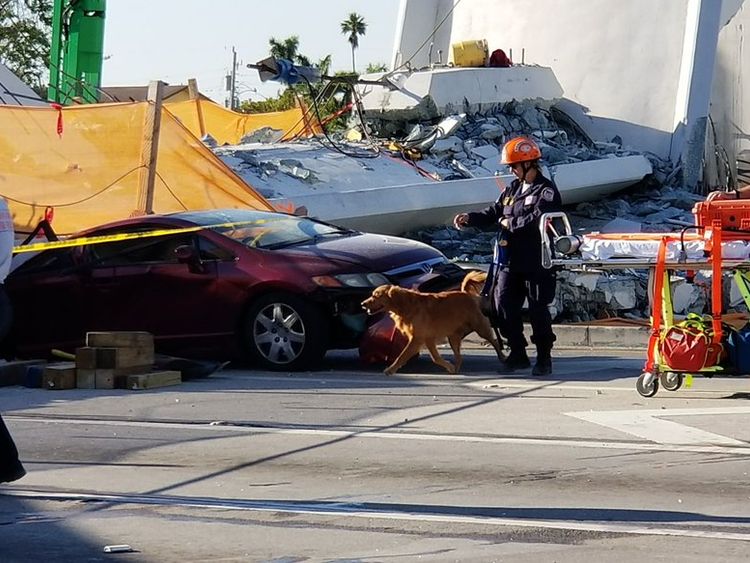 Florida governor Rick Scott has been briefed.
The university tweeted: "The pedestrian bridge across Southwest Eighth Street has collapsed, please avoid the area."
A statement said they were "shocked and saddened" at the tragic events and would be working to gather information and help rescue efforts.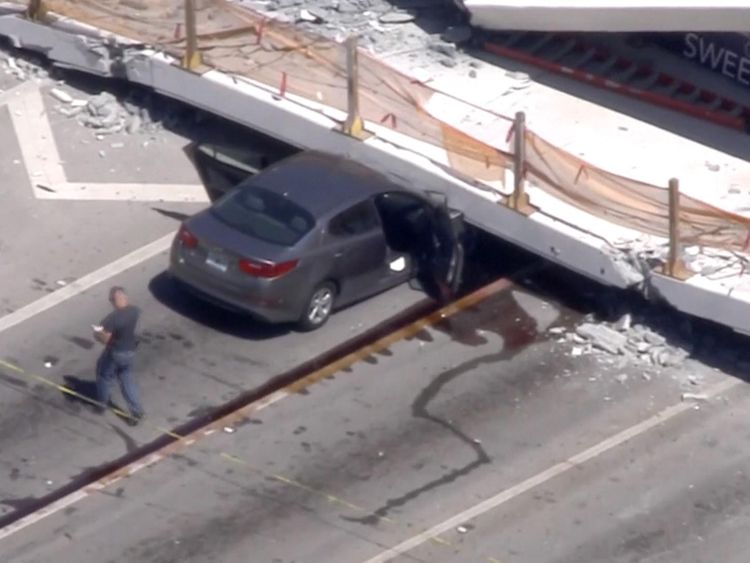 Firefighters are working to secure the bridge while searching for casualties.
Alejandro Camacho, a spokesman for the Florida Highway Patrol said: "Several people were killed. I just don't know how many."
Munilla Construction Management, the company involved in the bridge build, posted a statement online which read: "Our family's thoughts and prayers go out to everyone affected by this terrible tragedy.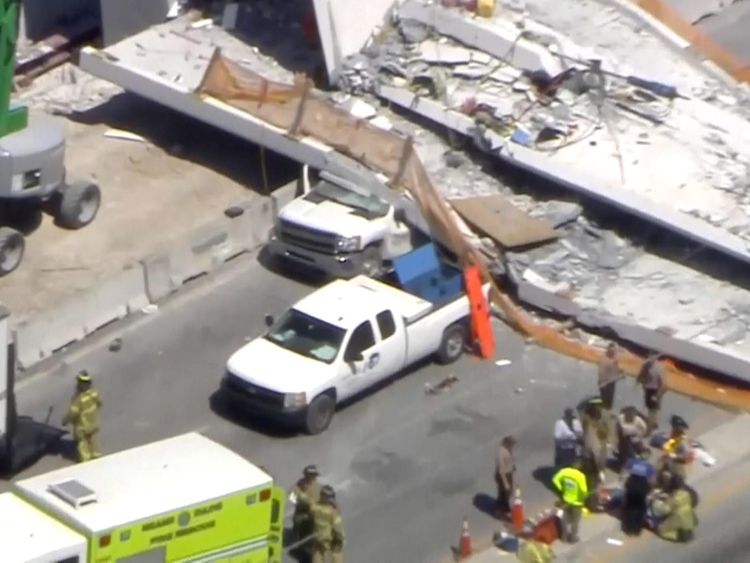 "The new UniversityCity Bridge, which was under construction, experienced a catastrophic collapse causing injuries and loss of life. MCM is a family business and we are all devastated and doing everything we can to assist.
"We will conduct a full investigation to determine exactly what went wrong and will cooperate with investigators on scene in every way."
According to the Miami Herald, the bridge was dubbed an "instant" bridge and was installed on Saturday, to help students at the university get across the busy road.
The bridge's main span was assembled at the side of the road, and then moved into place by crane.
I have spoken with Miami-Dade County Police Chief Juan Perez about the pedestrian bridge collapse at FIU. I will be in constant communication with law enforcement throughout the day.

— Rick Scott (@FLGovScott) March 15, 2018
The university told the Herald the installation process reduced the risk to pedestrians and workers and minimised traffic disruption.
The $14.9m (£10.7m) bridge crossed over a seven-lane road dividing the campus from the city of Sweetwater and was due to be completed in 2019.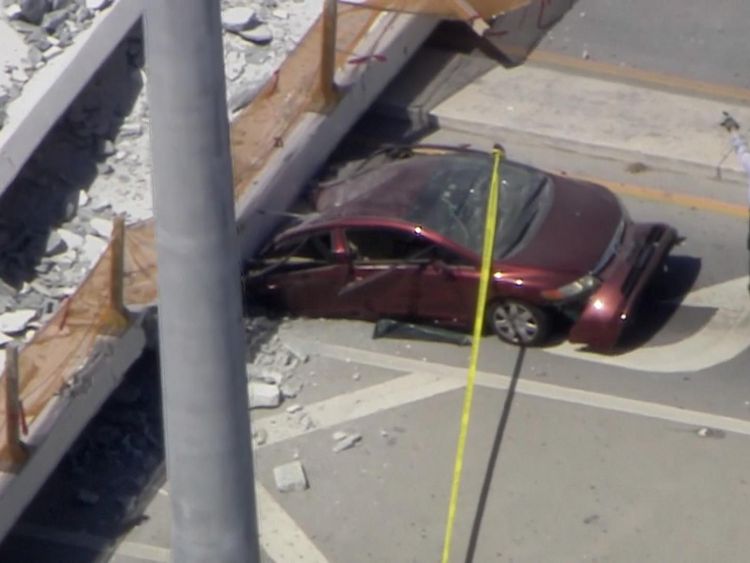 On the bridge installation on Saturday, the university president Mark B. Rosenberg said: "FIU is about building bridges and student safety. This project accomplishes our mission beautifully."