Foster warned over 'undemocratic' abortion stance
Stella Creasy, who wants MPs to repeal the 1861 Offences Against the Person Act, which makes abortion a criminal act, suggested Mrs Foster is "the only woman with any choice over abortion in Northern Ireland".
She also claimed the DUP leader's stance against altering abortion law was preventing the implementation of "modern, 21st century" abortion legislation across the whole of the UK.
The UK government has come under pressure to review abortion law since an historic referendum in the Republic of Ireland backed overturning a constitutional ban.
In 1967, the Abortion Act amended the Victorian-era law to make provision for abortion in the UK, apart from Northern Ireland, where abortion is still illegal in all but the most extreme cases.
However, Ms Creasy suggested the 50-year-old legislation applying to England, Scotland and Wales is also now out-of-date and needs replacing
This is because it still requires a "very long process involving two doctors" for a woman to be permitted an abortion, while women also face having to purchase abortion pills – developed since the 1967 act was written – by themselves online and with a theoretical risk of being prosecuted, Ms Creasy said.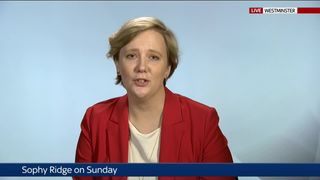 The Walthamstow MP told Sky News: "I don't see why Arlene Foster's views should prevent repeal of legislation that also affects my constituents."
Ms Creasy spoke out after Mrs Foster claimed it was "quite distasteful" to see people celebrating the Republic of Ireland referendum result in the street.
Mrs Foster also claimed some Sinn Fein supporters have told her they will vote for the DUP because of her party's position on abortion.
But, Ms Creasy suggested the DUP leader's views are in contrast to majority opinion in Northern Ireland and that criticising celebrations of the Republic's referendum result "isn't the best way forward if she wants to be somebody who's seen to be listening to her community".
She said: "This is about removing a piece of legislation rather than imposing a particular law on Northern Ireland.
"But, they do need to have this debate. The vast majority of the Northern Irish public want a medical rather than a criminal approach to abortion.
"And I think for Arlene Foster to be the only person making a choice on that isn't very democratic at all."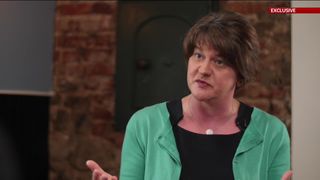 Ms Creasy described how current legislation "puts abortion in the same category of criminal acts as rape, as child stealing and with blowing somebody up with gunpowder" in Northern Ireland.
She added: "It is absolutely right that the UK parliament asks, 'do we have modern, 21st century abortion rules?'.
"That it would make an impact for every UK citizen, including those in Northern Ireland, simply makes the case for each nation then being able to describe what a modern abortion law looks like."
Ms Creasy is hoping to use amendments tabled to a forthcoming domestic violence bill to force a vote on the issue at Westminster.
Sinn Fein also pushed back against Mrs Foster's claims their supporters could turn to the DUP over the issue of abortion.
A spokesman told Sky News: "The issue of abortion is not a Unionist versus Nationalist issue.
"It affects women from all communities. It is about coming at the issue with compassion and respect, trusting woman and their doctors.
More from Abortion



Some Sinn Fein voters back DUP on abortion laws, Arlene Foster claims




Pressure mounts on Theresa May over Northern Ireland abortion law




Foster: Republic's abortion referendum 'has no impact upon law in Northern Ireland'




Pressure on May for abortion reform in Northern Ireland




Donegal: The only county that voted no in Ireland abortion reform




Irish PM: 'It's a momentous day for Ireland'
"While there are some with strongly held views, it is not credible to suggest that it will make Republicans become Unionist.
"Just as it would not be credible to suggest that Unionists who support and trust women on this issue will become Republicans. It is simply a wrong that needs put right."