Forces loyal to Haftar force to close two oil fields in western Libya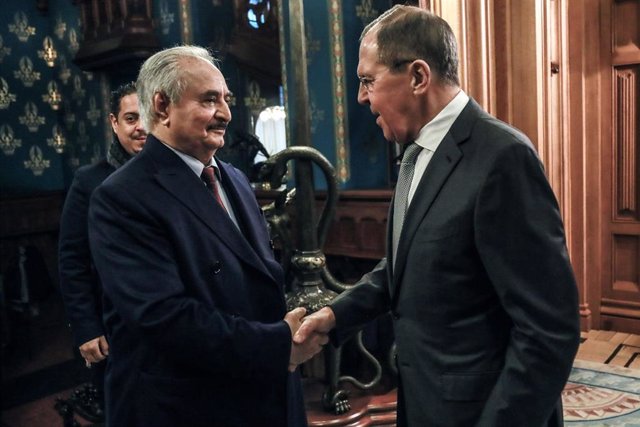 Russian Foreign Minister Sergei Lavrov (d), with Field Marshal Jalifa Haftar, loyal to the authorities settled in eastern Libya (i) – – / Russian Foreign Ministry / dpa
BENGAZI, Jan. 19 (DPA / EP) –
Forces loyal to the quarterback and Libyan opponent Jalifa Haftar have taken a pipeline this Sunday that linked the oil fields of Al Sharara and Al Feel in western Libya, forcing the closure of operations at both sites.
The assault has been executed by the movement known as Harak al Zintan, loyal to the Parliament of Tobruk, the parallel government of eastern Libya of which Haftar is his strong man.
The leader of the militias, Ahmed Feneer, has confirmed the suspension of operations and assured that "the detention of oil production and export will continue" until the government of the capital, Tripoli, recognized by the international community falls.
The National Petroleum Corporation of Libya has also confirmed the suspension of operations in both fields.
This assault takes place in the middle of the Berlin peace conference to achieve a lasting ceasefire in the confrontation between Haftar and Tripoli, and only hours after the marshal struck a blow in the negotiations by appropriating five export ports of crude, which gives you control of 60 percent of Syria's crude.
The United Nations Support Mission in Libya (UNSMIL) has expressed concern regarding the halting of oil production in Libya, an act that, they warn, will have "devastating consequences for the Libyan people, as well as terrible side effects. for the already deteriorated economic and financial situation of the country. "
The mission "urges all Libyans to exercise maximum restraint while international negotiations continue to end the crisis in Libya, including the recommendation of measures to ensure transparency in the allocation of resources."