Forced marriage: Mother jailed for four-and-a-half years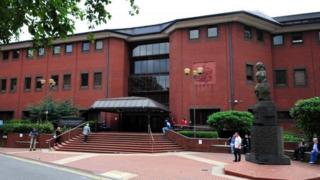 A mother who forced her daughter to marry a relative almost twice her age has been sentenced to four-and-a-half years in prison.
The woman from Birmingham, who is in her 40s, duped the then 17-year-old into going to Pakistan in September 2016 to wed the man.
The girl became pregnant by him when she was 13 and he was 29, which her mother saw as a "marriage contract".
The case is the first successful prosecution of its type.
Sentencing the mother at Birmingham Crown Court, Judge Patrick Thomas QC said the victim had been "sold for her passport".
Neither the mother nor daughter can be identified for legal reasons.
Jurors had heard the daughter, now aged 19, was fooled into travelling to Pakistan on the promise of getting an iPhone for her 18th birthday.
'Cruelly deceived'
When the plan to marry her to the relative 16 years her senior was revealed, the girl protested. In response her mother threatened to burn her passport and assaulted her.
"It takes no imagination to understand the terror she must have felt", the judge said.
"You had cruelly deceived her. She was frightened, alone, held against her will, being forced into a marriage she dreaded.
"You must have known that was her state of mind. Yet for your own purposes, you drove the marriage through."
Prosecutor Deborah Gould read a victim statement to the court in which the girl said she was proud of herself for coming forward and wanted other young women who found themselves in similar situations to ask for help.
The court heard how the wedding was the defendant's idea. The victim's father, who is divorced from her mother, eventually found out and told social services and police.
The mother was found guilty on Tuesday of two counts of forced marriage and a count of perjury after she lied to the High Court about the incident.
Analysis: Sima Kotecha, BBC Midlands correspondent
This sentence sends a strong message to potential perpetrators that forcing a person to get married is illegal and punishable by a lengthy term in custody.
As the first case of its kind, campaigners hope those who are silently suffering will be encouraged to seek help and speak out about the trauma and psychological damage caused by the coercive measures enforced by their relatives.
The irony is those who claim to love them the most are the ones who are destroying their lives through manipulation and deception.
The man the victim went on to marry, took her virginity while she was 13 when the "marriage contract" was made.
She was then forced to have an abortion upon her return to the UK.
The court was told this amounted to "significant trauma" which "fundamentally affected" her.
The new offence of forced marriage came into effect in June 2014, but prosecutions have been rare.
In June 2015, a man was jailed at Merthyr Crown Court for offences including forcing a woman into marrying him, while there is at least one other live case in the courts.
If you or someone you know has been affected by forced marriage you can find several organisations that may be able to help here.