Footballers and the meaning behind their tattoos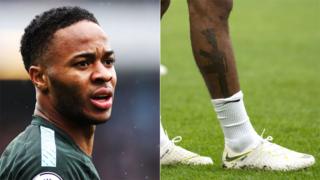 England footballer Raheem Sterling has been forced to defend a new tattoo of an M16 assault rifle, after anti-gun campaigners called it "disgusting".
The Man City forward said it reflected his pledge to never touch a gun after his father was shot dead when he was two years old.
"I shoot with my right foot, so it has a deeper meaning," he wrote on a post on Instagram.
Sterling isn't the only footballer who has explained the meaning of his tattoos.
Sergio Ramos
He has the Virgin Mary on his arm and a lion on his back. But the tattoo that caused the most intrigue is Sergio Ramos' knuckles.
The Real Madrid captain asked supporters to guess the meaning behind the numbers 35, 90+, 32 and 19, when he got them inked in red in 2016.
Fans eventually worked out they referred to his various debut successes. When he first started his career at Sevilla, Ramos' first squad numbers were 35 and 32, while 90+ refers to his injury time goal in the 2014 Champions League final against Atletico Madrid.
As for the 19, he made his official debut for Spain on his 19th birthday.
Leroy Sane
Leroy Sane was so committed to his latest tattoo that he dedicated four painful days to getting it inked.
The subject? Himself.
Specifically, his goal against Monaco in the final 16 minutes of the Champions League in February 2017.
"I have some things that are important for me personally, so that's why I decided to do it," he told the Mirror last year.
"When I was young, I always wanted to play in the Champions League."
Andre Gray
The Watford striker's full back tattoo took three years to complete and showcases key figures and symbols from the American civil rights movement.
Bob Marley features alongside Rosa Parks and Muhammad Ali, Marcus Garvey and his ship are there, along with the Black Panthers.
Gray told the Telegraph that he started finding out about the civil rights movement before making his £18.5m move from Burnley to Watford, and key people from the the movement inspired him to aim high.
David Beckham
Although many footballers have their sporting achievements immortalised in their tattoos, David Beckham's are different.
He has more than 40 inkings and most of them celebrate his family. All of his children's names are marked in some form on his body, along with his wife Victoria Beckham and his parents.
And in 2015, he permanently inked a stick drawing by his daughter Harper onto his hand, alongside a heart.
"Apparently Harper is allowed to scribble on daddy," he wrote on Instagram.
Daniele de Rossi
The Italian midfielder is well known for his tough tackle, and he decided to get a tattoo to immortalise his reputation forever.
The tattoo is a take on the hazard sign and could look like a slippery floor warning sign at a glance. But in de Rossi's version, his opponent's leg is hacked away. Be warned.
Follow Newsbeat on Instagram, Facebook and Twitter.
Listen to Newsbeat live at 12:45 and 17:45 every weekday on BBC Radio 1 and 1Xtra – if you miss us you can listen back here.