Florida shooting: Teachers want to be armed, but not with guns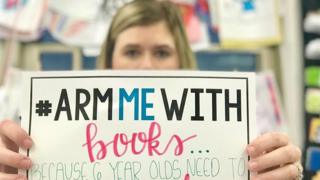 "Pencils, paper, technology, books, art supplies, counsellors… Not Guns" – this is the wishlist of one teacher in America.
Margarette Anne's Instagram post came hours after US President Donald Trump suggested arming teachers could prevent school shootings like that which left 17 people dead in Florida last week.
Since the president first suggested arming teachers he tweeted on Thursday to clarify he meant to suggest "giving concealed guns to gun adept teachers" – estimating this would be about 20% of teachers, which would work out at 640,000 people.
Many of the educators posting selfies and messages under the hashtag #ArmMeWith reject the idea.
You might also be interested in:
Also using hashtag #educatorsagainstviolence and #schoolsafetynow, thousands of teachers have been posting selfies and messages of the non-violent items they would like to see in their classrooms.
The first posts with the hashtag were on Tuesday when Californian @the.feminist.teacher and Brittany Wheaton of @thesuperheroteacher account posted photographs of messages asking for funding for student support programs.
"Arming teachers with guns is not the answer. I want you to #ArmMeWith what I need to provide a great education for ALL students," she wrote.
Lindsey Paull, a primary school teacher in Iowa wrote she would leave her "dream job" of teaching if she was asked to carry guns in the classroom.
"#ArmMeWith with books because six year olds need to learn to read not to be scared in class," she wrote on a poster in her photograph.
"After Sandy Hook I made sure I voted for politicians who wanted stricter gun laws, but it stopped there. It can't stop there now," Ms Paull told the BBC, adding she is "so proud" of the teenage survivors of the Florida shooting last week for "demanding" change.
Training teachers to use arms to respond to a gun attack is not a new idea. Advocates argue the emergency response is too usually too slow in cases of mass shootings, and schools need to be able to neutralise gunmen.
One programme, called Faster, has so far trained 1,300 school staff to respond to mass shootings, including in firearms training.
Many of the posts have received hundreds of likes and comments as other teachers joined in.
One primary school teacher in Lincoln, Nebraska, posted on Wednesday she wants reform of gun laws in order to keep her classroom "from becoming the scene of America's next mass shooting".
She also wrote she had felt compelled to prepare for potential attacks by finding basic equipment in her classroom to defend herself. Her post was liked more than 1,000 times.
"#ArmMeWith the best defense against hatred, ignorance, and violence: literature and information that will empower my students," wrote English teacher @writeonwithmissg.
The majority of posts focussed on classroom supplies or improved funding for school programs, but some suggested longer-term action.
"Arm me with pencils so my students can write new laws," read one suggestion, from Kate Burgess-MacIntosh.