'Flawed' probe into Army instructors' abuse claims halted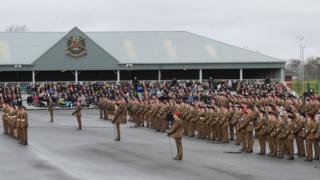 One of the biggest investigations into the alleged abuse of teenage Army recruits in Britain has collapsed.
Sixteen instructors at the Army Foundation College, Harrogate, North Yorkshire, were accused of slapping and punching 28 recruits.
A judge branded the three-year Royal Military Police (RMP) probe "seriously flawed" as he halted the first of three courts martial.
There are now calls for senior RMP officers to be investigated.
More on this story and others from around Yorkshire
The investigation had considered complaints from a total of 40 recruits about 30 instructors – which led to the prosecution of 16 of them, all sergeants and corporals.
The allegations centred on how recruits, aged 16 and 17, were treated at training camp in Scotland in the summer of 2014.
Recruits claimed they were slapped or punched in the face, spat at, grabbed by the throat, had their faces submerged in mud or were ordered to eat animal manure.
However, it took two years to interview the soldiers involved under caution and another year before they were told they were being charged.
In addition, handwritten accounts made by some recruits shortly after the alleged abuse have never been found and the military court heard some recruits claim they were threatened into giving statements and to appear as witnesses.
'Startling' assumptions
The courts martial at Bulford, Wiltshire, collapsed after eight days when the prosecution offered no evidence in 24 of the 31 charges faced by the first 10 defendants.
Five were cleared and Assistant Judge Advocate General Alan Large halted proceedings against the remaining five, ruling they could not get a fair trial.
The prosecution indicated it would offer no evidence against a further six instructors due to go on trial next month.
It emerged the RMP officer leading the investigation, Capt Teresa Spanton, did not question eyewitnesses because she thought they would lie.
"The decision not to interview, at any stage during a very long inquiry, such highly relevant eyewitnesses is a very serious breach of the duty upon police officers to investigate a case fairly and objectively," the judge said.
He said her assumptions were "frankly startling".
"It reflects a totally blinkered approach to the police's duty of establishing, fairly and objectively, what happened," he added.
Analysis: Jonathan Beale, BBC Defence Correspondent
On the face of it these were very serious allegations of widespread physical abuse of teenage recruits – children in the eyes of the law – but the court martial quickly unravelled.
The Judge Advocate was scathing about the way the RMP handled the investigation; there were long delays in taking statements and evidence was lost or ignored.
Some of the teenage recruits had "no, or at very best vague, recollections" of the events and key witnesses, including Army instructors, weren't even spoken to.
Judge Alan Large concluded the RMP had carried out the case "in direct breach of their duty to investigate fairly and objectively".
This isn't the first time the RMP has been accused of bungling an investigation.
The human rights group Liberty said it should be a "wake-up call" for the Ministry of Defence and should force a rethink about the armed forces' system of justice.
Lewis Cherry, a solicitor who specialises in defending soldiers at courts martial, said he was "appalled" by what had emerged during the trial.
"When I heard what Capt Spanton had to say even I didn't believe it could be that bad.
"When they are saying they are making a policy decision to deliberately breach the codes of practice and breach the Attorney General's guidelines, even I couldn't believe it could be that bad."
Mr Cherry said the investigation had been "deliberately improper".
"Here they are deliberately getting it wrong, they are looking the opposite way. They are only looking for their guilt, not their innocence."
He said those managing the RMP must be investigated.
'Shoddy' justice
An Army spokeswoman said: "Despite the outcome, we will consider carefully whether any internal disciplinary action is necessary.
"Given this ruling, the Service Prosecuting Authority and the Royal Military Police will be conducting a review to ensure that lessons are learned."
Human rights campaign group Liberty has said the collapse of the trial should be a "wake-up" call to the British Army.
Emma Norton, from the group, said those serving their country deserve better that a "shoddy second-rate" justice system.
"When someone commits a crime on British soil – whether soldier or civilian – that crime should be investigated by civilian police," she said.
"As this scathing ruling shows, military police do not have the resources, expertise or impartiality to conduct proper, fair investigations – and, when they fail, soldiers and their families have no independent oversight body to turn to for help."
The defendants:
Sgt Simon Girault, 29, of 1st Battalion, Royal Regiment of Fusiliers, was accused of four charges of battery and five of ill-treatment. He was found not guilty of three charges of battery and three charges of ill-treatment. The remaining charges were stayed
Staff Sgt Steven Harrison, 34, of 3rd Regiment, Royal Horse Artillery, accused of one charge of battery and one of ill-treatment. He was acquitted of battery and the ill-treatment charge was stayed
Sgt Thomas Bryan, 31, of 2nd Battalion, The Mercian Regiment, accused of one charge of battery and one of ill-treatment. He was acquitted of ill-treatment and the battery charge was stayed
Cpl Andrew Armitage, 33, of 156 Regiment, The Royal Logistic Corps, accused of one charge of ill-treatment. The charge was stayed
Sgt Mark Graham, 31, of the HQ Defence Food Services School, Royal Logistic Corps, accused of four charges of ill-treatment. He was cleared of all charges
Acting Sgt Steven Duncan, 31, of 1st Battalion Scots Guards, accused of four charges of ill-treatment. He was found not guilty on all charges.
Acting Sgt Daniel Royle, 33, of 1st Battalion, The Duke of Lancaster's Regiment, accused of one charge of ill-treatment. He was found not guilty
Cpl Anthony Thomas, 31, 2nd Battalion, The Royal Anglian Regiment, accused of one charge of ill-treatment. He was found not guilty.
Sgt Robert Comley, 33, of The Queen's Dragoon Guards, accused of one charge of ill-treatment. He was found not guilty
Acting Sgts Duncan and Royle were also due to go on trial accused of eight further charges alleged to have taken place at the Army Foundation College in Harrogate between July 2013 and October 2014 – but were acquitted.
A further six instructors were accused of 24 offences relating to alleged abuse in June 2014. The case was dropped and the defendants were acquitted:
Sgt David Harley, of the Scots Dragoon Guards, faced one charge of ill-treatment and three of battery
Sgt Anthony Owen, of The Parachute Regiment, faced six charges of ill-treatment and one of battery
Sgt Jonathan Carter, of 1st Battalion, Royal Horse Artillery, faced two charges of ill-treatment, one of battery and one of actual bodily harm
Cpl Hassan Ghaith, of The Parachute Regiment, faced three charges of ill-treatment and two of battery
Colour Sgt Scott Dyson, of the Infantry Battle School, faced three charges of battery
Former Lance Corporal of Horse Stephen Warren, of the Household Cavalry Regiment, faced one charge of ill-treatment