Five things we've learnt from British shoppers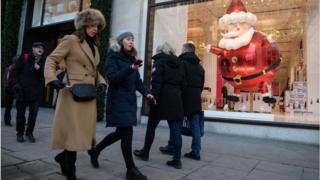 British retailers have published sales figures for the trading period up to and including Christmas, and while there have been record takings for some, the festive season proved gloomy for others.
Consumers are continuing to alter their buying habits to factor in that American import Black Friday as well as increasingly turning to the internet. Unusual trends are emerging.
Here are five things we learnt about UK shoppers this Christmas:
1. 'Tis the season to treat yourself – to food
Another interesting trend is that although consumers are tightening their belts fiscally, that doesn't mean their waistlines are shrinking.
Some supermarkets reported a strong demand for their premium ranges over the festive season.
Sales of Morrison's "The Best" product were up 25%, while Sainsbury's said customers bought more Taste the Difference food than last year as "people treated themselves".
Tesco said it saw "record sales and volumes" in the four weeks leading up to Christmas Day, due to sales of Tesco's Finest and the upmarket Go Cook range doing well, and Waitrose sold a month's worth of stock of Heston Citrus Sherbert Lazy Gin in just one day.
"What's interesting is that instead of trading up to a premium supermarket like Waitrose or Marks & Spencer, people have been trading up within the normal retailers they shop at and just buying more premium products," said Bryan Roberts, an insight director at TCC Global, the consultancy.
2. Black Friday is a mixed blessing
Black Friday has been both a blessing and a curse for British retailers.
A US tradition, it signals the start of the Christmas shopping season and begins on the day after Thanksgiving in late November.
In some cases, it has brought spending forward. People take the opportunity to shop for presents and bargains, but then when the prices return to normal in early December before Christmas, they don't want to pay the full amount.
However, there has been criticism that often Black Friday deals are not really as good as they seem, especially since some retailers routinely have multiple sales throughout the year.
For some, Black Friday has been tremendously successful, such as Dixons Carphone and John Lewis, says Mr Roberts.
Instead of discounting existing products, Dixons Carphone sourced products especially for the Black Friday promotions that were only available until they sold out.
"By having products just for Black Friday, Dixons is generating incremental spending that wouldn't have happened anyway," explains Mr Roberts.
"One-off merchandising is the most sensible way to go, otherwise you're diluting your margins."
3. Shoppers are wary of too many discounts
Christmas has traditionally been a crucial time for retailers, but this year, some began discounting in the week before.
"In early December, there was Black Friday hangover, no one wanted to pay full price, and the weather didn't help as no one wanted to go to the shops, so in the week before Christmas there was panic discounting," says Ms Berg.
Some retailers did not participate in Black Friday, and did not have any discounts prior to Christmas.
Next benefited from this approach, but M&S did not, seeing its overall like-for-like sales fall by 1.4% in the 13 weeks to 30 December.
However, analysts believe that not participating in Black Friday may help M&S in the long run, as it has reduced the number of sales it has annually from nine clearances down to just four a year.
"Customers are getting so savvy and cynical about discounted products," Jeremy Schwartz, former chairman and chief executive of The Body Shop, tells BBC Radio 4's Today programme.
"Those retailers that have brought something new – a great quality, a great innovation, something new, and held their nerve on price – have been the ones who've been the winners."
4. Amazon is still king
Amazon might be keeping mum on its Christmas trading figures, but you have only to look around at colleagues and neighbours to see the online retail giant's impact on British retail.
"It's noticeable that, year after year, more people are choosing to do the bulk of their Christmas shopping with Amazon and other online retailers," said Mr Roberts.
"Fulfilment is improving every year, returns, the ability to use lockers to pick up parcels. It's becoming easier for online shopping to become a big part of people's lives."
Amazon considers itself responsible for making Black Friday a permanent fixture on the UK calendar, and retail analysts don't disagree.
Not everyone wants to make all their purchases online, but with the opportunity to obtain so many everyday products under one roof, retailers like Mothercare, which saw like-for-like sales fall 7.2% in the 12 weeks to 30 December despite an online presence, have much to fear.
"Online is taking a bigger share of the spoils with every month, and Christmas magnifies that," warns retail consultant Richard Hyman.
"Online is adding to capacity, it isn't adding to demand.
"I think there are far too many mouths to feed, and there will be a shakeup."
5. Everybody's going online
Sales figures show that retailers with good online shopping operations continue to do well, such as Next, which reported saw a 13.6% rise in online sales in the 54 days to 24 December, and online fast fashion retailer Boohoo, where revenues doubled to £228m in the four months to the end of December.
According to Natalie Berg, global research director of Planet Retail, retailers with a "robust online strategy" which includes super-fast delivery are the ones who gained the most from Christmas.
John Lewis, whose like-for-like sales were up 3.1% for the six weeks to 30 December, said that two thirds of its Click-and-Collect orders were picked up by shoppers when they went grocery shopping to Waitrose stores, showing that convenience is a big factor for consumers.
And it seems that delivery times have sped up dramatically.
"In retail, time wars are becoming the new price wars. A few years ago, three to four days was acceptable, but today same-day delivery is becoming the norm," said Ms Berg.
"For example, Argos made a big deal that shoppers could place an order as late at 1pm on Christmas Eve and have it delivered at 6pm."