Five things to know on school offer day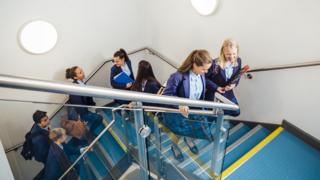 Each year on 1 March, pupils across England find out which secondary schools are offering them places for the following September.
Ahead of this year's "national offer day", the Good Schools Guide has warned that about 100,000 of almost 600,000 pupils involved will not be offered a place at their first choice of school.
1. There are more secondary school-age children
A baby boom in the 2000s created a "population bulge".
Primary schools have been feeling the effects of this for years. Now, secondary applications are beginning to rise as children born during this population boom move up through the school system.
2. More children aren't being offered any of their top choices
Parents and guardians can list up to six schools in order of preference, depending on the area in which they live. Some will be allowed fewer choices.
The increase in demand for school places has meant fewer pupils across England are being offered their first or any of their top choice schools – last year the proportion (83.5%) was the lowest since 2010.
And more are being offered a school that they didn't choose at all.
However, the proportion of pupils not being offered any of their choices is still below the rate seen a decade ago.
The National Union of Teachers has said: "Population changes are not a new phenomenon and local authorities, who are responsible for providing sufficient school places, have traditionally been able to plan to meet rising and falling demand."
School places pressure hits secondaries

Families 'struggle to get first-place secondary school'

Top state schools 'dominated by richest families'
Since the Education Act 2011 came into force, local authorities lost the power to plan and build new maintained schools, because the government said any new school had to be a free school.
This relies on private individuals or organisations to apply to set up a school.
Partly because of this, new free schools are not always opened in the areas they are most needed.
Previously, local authorities had both the statutory obligation to provide enough school places for their population and the power to build new schools to meet demand.
Now, they still have a duty to provide enough places, but they can only encourage, not make, academies add new classes.
The Department for Education says it has created 735,000 new school places since 2010.
3. How likely you are to get your first choice school varies across the country
Pupils are considerably less likely to be offered a place at their first choice of school in London than in the North East or South West – the regions with the joint highest proportion of pupils getting a place at their preferred school.
But this is arguably mainly because there are far more schools to choose from in more urban areas.
If there are two schools in an area and everyone picks the same one as their first choice, half of those pupils will get their first choice.
In the same scenario in an area with lots of schools, the most popular ones will be heavily over-subscribed and so more families may be disappointed.
There are also wide variations in the availability of good and outstanding schools – in London, 33% of schools in the poorest areas are considered outstanding, compared with 5% in the North East and 0% in the South West, according to research by Teach First.
4. Pupils' social backgrounds can be linked to what sort of school they go to
Comprehensive schools are open to all, regardless of background or ability.
One way of looking at the social mix of a school is how many of its pupils are eligible for free school meals.
Free school meals are available to children whose parents claim one of a range of income-based benefits.
Using this measure, it seems the top performing 500 comprehensive schools by GCSE results in the country (out of a total of about 3,500) take about half as many of the poorest children as the average.
Analysis by social mobility charity the Sutton Trust found that at the top performing 500 schools, 9.4% of pupils were eligible for free school meals compared with an average of 17.2% across all comprehensive schools.
At grammar schools, which select by ability and also send out their offers on 1 March, only about 3% of pupils receive free school meals.
The Sutton Trust says that this partly because living in the catchment area of a top comprehensive school is associated with a "house price 'premium' of around 20%".
The average house price in the catchment area of a top 500 comprehensive is £45,700 more than the average house in the same local authority, the charity says.
5. Secondary-age pupils travel further to school
As children move up to secondary school, they typically travel further to get to school.
Despite growing competition for schools though, the average distance travelled to get to school by secondary pupils has remained fairly stable over the past decade.
As you might expect, children in rural areas travel much farther to get to school – seven miles on average from rural villages compared with less than three miles in urban areas.